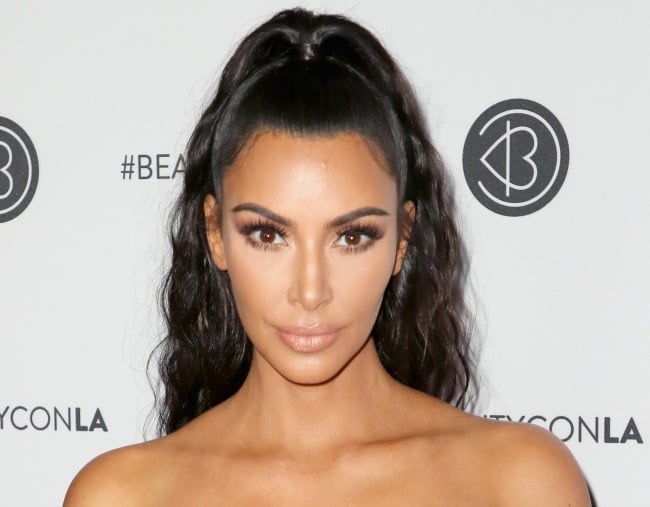 She made some gobsmacking remarks about looking "anorexic" yesterday, and now Kim Kardashian West is being accused of being homophobic.
When a photo of the reality star wearing tight velvet pants for Jimmy Kimmel Live was posted on Instagram, American model and actor Tyson Beckford left body-shaming comments on the post.
"She is not real, doctor f*cked up on her right hip," the Make Me a Supermodel host wrote.
"Sorry I don't care for it!" he also commented.
It wasn't long before the 37-year-old mum-of-three caught wind of Tyson's comments.
A gossip Instagram page, the Shade Room shared the image of Kim with screenshots of Tyson's disparaging comments, which Kim quickly responded to.
"Sis we all know why you know why you don't care for it," the Keeping Up With The Kardashians star wrote.
While some applauded Kim for attacking her body shamer's harsh comments, others believed Kim's comments were homophobic as she appeared to insinuate that Tyson is gay.
Kim Kardashian called Tyson Beckford "sis," implying that he's gay, as a response to him not liking her body. THE HOMOPHOBIA JUMPED OUT!!! pic.twitter.com/taZZsKZk46

— rom jacob b. (@robokob) July 31, 2018
Kim Kardashian, you're questioning Tyson Beckford's sexuality, like being "gay" is something evil. How about you worry about your husband mental health because you should be more concerned about his well being than if someone is gay. The nerve of this woman. Not today Kimberly.

— Mr. Weeks ✊???? (@MrDane1982) July 31, 2018
Wait…people think Kim Kardashian was in the wrong for her reply to Tyson Beckford? Eh. Generally, men are way too comfortable critiquing women's bodies. Her body modifications are HER business. Tyson doesn't get a pass because he's fine. He drew first blood.

— Gangsta Boo Radley (@TheCourtJASter) August 1, 2018
Tyson: I don't find her body work attractive
Kim: We no you don't, cause you gay
Y'all: Oooooohhhhh Kim with the Clapback.

Yes, defend your faves being homophobic and problematic.

— Nikan ati aifẹ (@MadDapr) July 31, 2018
Kim called Tyson Beckford "Sis", who is this Kimberly ????????????

— BrokewExpensiveTaste (@BrokeandBougi3) July 31, 2018
Tyson has since responded to Kim's comment, posting on his Instagram story, writing "Despite what @theshaderoom might be tryna say, my opinion in women who do plastic surgery stays the same, not for me! I personally don't care for it! Done end of story!"
It's not the first time Kim has been subject to plastic surgery rumours. On Keeping Up With The Kardashians, she even x-rayed her butt to prove it's real.
Earlier this week, the reality star gushed about how "skinny" she looked in videos posted to Instagram stories.
While backstage at a charity event, Kim and her sisters Khloe Kardashian and Kendall Jenner exchanged compliments and comments about looking "anorexic" and not eating.
Fans shared their disbelief and frustration at the famous sisters' disregard for their young fans by making the inappropriate comments.
What do you think? Was Kim's comment to Tyson homophobic?