If you thought there wasn't enough Kardashian/Jenner pregnancy-related news, then strap yourself in for just a little bit more.
Let's rewind the tape to October 2015, when Kim Kardashian-West appeared on the Ellen show.
Kim and Ellen looked like this: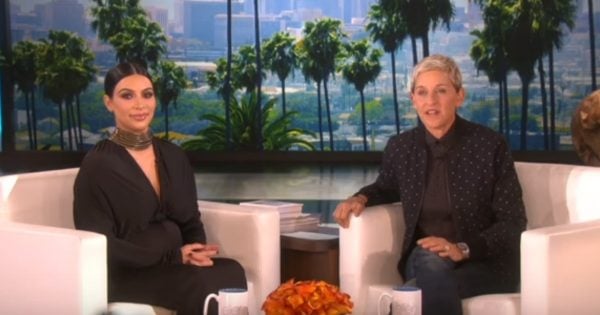 FYI: Kim looks quite uncomfortable with that necklace/choker on. 
And, it was just a few weeks after Caitlyn Jenner came out as, "Call me Caitlyn".
Even though it's less than two years ago, it feels like a decade in the Kardashian-Jenner universe.
Besides chatting about the "moment" Kim found out she was pregnant, she also dropped in a tidbit about a psychic prediction she received.
"A psychic emailed me the other day and said, 'You're gonna have twins in 2018'," Kim told Ellen. And, I was like, 'Lose my email'."
"Don't, no I'm not."
Come back to today.
With Kylie Jenner's rumoured pregnancy, the Kardashians have proved they are the queens of PR. (Post continues after audio).
Kim (and her husband Kanye) are having their third child. Via surrogate. In early 2018. Around the same time, Kylie Jenner is expected to give birth (if rumours are true that she is pregnant).