If you thought there wasn't enough Kardashian/Jenner pregnancy-related news, then strap yourself in for just a little bit more.
Let's rewind the tape to October 2015, when Kim Kardashian-West appeared on the Ellen show.
Kim and Ellen looked like this: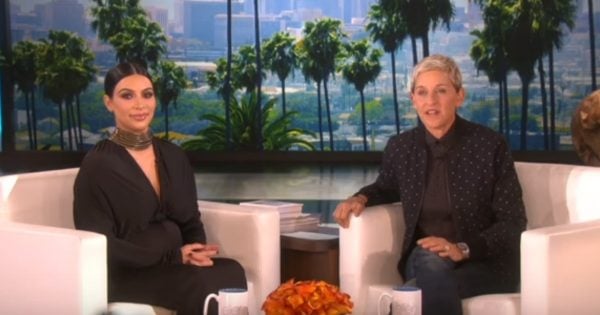 FYI: Kim looks quite uncomfortable with that necklace/choker on. 
And, it was just a few weeks after Caitlyn Jenner came out as, "Call me Caitlyn".
Even though it's less than two years ago, it feels like a decade in the Kardashian-Jenner universe.
Besides chatting about the "moment" Kim found out she was pregnant, she also dropped in a tidbit about a psychic prediction she received.
"A psychic emailed me the other day and said, 'You're gonna have twins in 2018'," Kim told Ellen. And, I was like, 'Lose my email'."
"Don't, no I'm not."
Come back to today.
With Kylie Jenner's rumoured pregnancy, the Kardashians have proved they are the queens of PR. (Post continues after audio).
Kim (and her husband Kanye) are having their third child. Via surrogate. In early 2018. Around the same time, Kylie Jenner is expected to give birth (if rumours are true that she is pregnant).
Let's unpack this.
Like all Kardashian news, her surrogacy is swelled with rumours. Who is this woman carrying her baby? Is Kylie really the surrogate for Kim? Or, plot twist, is it actually Khloe?
Another one to add to the list is the possibility that Kim's surrogate is carrying twins. This has been "confirmed" by all "reputable" gossip news sites, like Hollywood Life and The Hollywood Gossip.
With Kylie Jenner's rumoured pregnancy, the Kardashians have proved they are the queens of PR. (Post continues after audio.)
However, if we accept there is merit in the predictions of some psychics, maybe we could be looking at the prediction too literally.
Refinery29 recently published an article looking at the similarities between Kim and Kylie's (alleged) pregnancies.
"Because not only will the new babies be cousins, but they'll almost be like sisters, considering that they'll be very close in age," they wrote.
"And Kim and Kylie do look a lot alike. So they'll be...cousin sisters? Cousin twins, if you will?"
Maybe the psychic isn't spot on, but it looks like there could be a sliver of truth to what they were saying.
The award-winning podcast Mamamia Out Loud is doing their first live show. There will be laughs, disagreements and you can meet the hosts afterwards! We're also donating $5 of every ticket price to Share The Dignity so grab your friends and come along to share the love and laughs, get your tickets here.