"Given her history, I bet she liked being bound and gagged."
"Next time stop flaunting your arse all over social media, dumb sl*t."
"I'd put a gun to her head too if it meant she'd put her clothes back on."
These are some of the comments left on articles about Kim Kardashian West's nightmare in Paris, where she was reportedly bound, gagged, and robbed at gunpoint.
These remarks took me less than one minute to find, but their impact has stayed with me much longer.
"Stupid f*cking whore. Hopefully now you disappear."
"Maybe now she will put her kids first and stop getting naked."
"I can only imagine your f*cked-up ugly crying face now, Kim."
I shudder to think how many more of these senseless, breathless, gutless 'jokes' are out there — or how many people felt a surge of joy when news of Kim's trauma first broke.
It's chilling that, upon reading those headlines, many people thought 'Good'. Because, if the misogynistic echoes of Twitter and Facebook are anything to go by, "that rich slut" who loves social media "had it coming"… right?
I'm not exactly sure what Kim has done to make us so vitriolic to the point we see her legitimate fear of rape and death as entertainment.
Or what has made us so vengeful that we truly believe she owes us for her blinding and sometimes inexplicable success.
Because the truth is, we all owe Kim Kardashian West something instead: respect.
Respect that, according to the information that is currently available to the media, Kim is someone who endured something purely terrifying.
Respect that, for six minutes, Kim is a woman who thought her life could be mercilessly taken from her.
Respect that, regardless of her fame and incredible fortune, Kim is a mother of two little children. She is also a wife, a daughter, a sister, a friend, and – whether you like her Instagram posts or not – a human being.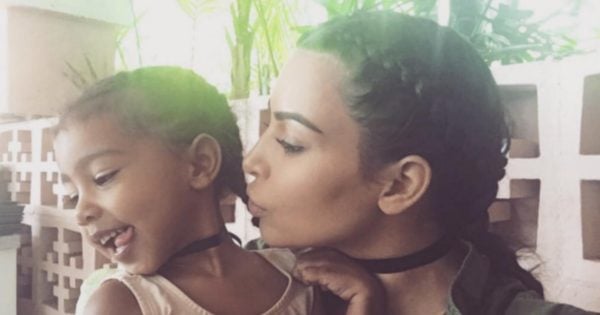 Despite the depraved comments on social media, Kim Kardashian West is not a sex toy. She is not an object. She is not a pair of tits and an ass. She is a real, living and breathing person.
And irrespective of how big her house is, or how many bags she owns, she is worthy of safety just as much as you are.
Joking about what happened to Kim Kardashian West doesn't make you a comedian. It makes you look insensitive at best, and inhumane at worst.
Ultimately, your archaic quips all follow the same, tired diatribe: that a woman who freely expresses her sexuality, forfeits her social and cultural value to the point where she becomes worthless.
It's a sickening reality that we'd never justify a man's suffering because he likes a nude selfie, or has a sex tape.
And perhaps that's the most worrying thing of all.