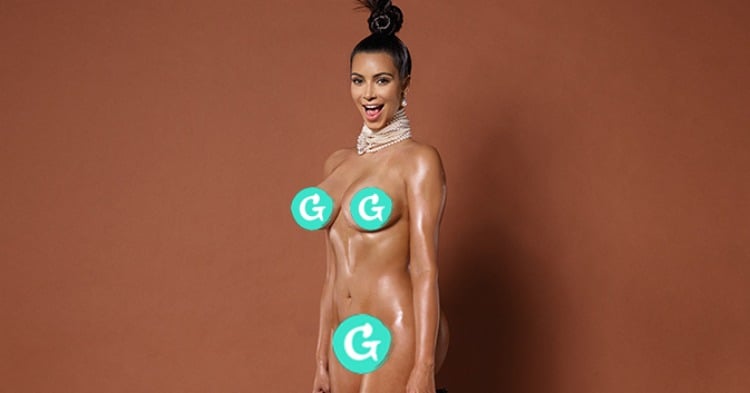 Image via Paper Magazine.
I don't know if you've heard… Nah, you probably haven't seen it yet… One of the Kardashians has gone the Full Monty.
Of course, I'm kidding. By now EVERYONE in the Western world has seen Kim Kardashian's derriere and front bum.
Many websites have salaciously republished the images *cough* making a grab for clicks on the 'Internet Breaking' bandwagon, but little analysis has gone into what this all means.
Will we start lathering ourselves in baby oil?
Will wrapped pearl necklaces start trending?
No, probably neither of those things will happen, but the bum moment of 2014 shouldn't be without intense speculation. We bring you the five things we've learned from Kim Kardashian's Paper magazine photoshoot.
1. The bush isn't back.
Remember all those articles proclaiming that 2014 would be the year that women would down their razers and embrace the full bush movement? Nup. Kim's photoshoot will probably change all that. Sigh.
2. A little baby oil goes a long way.
Wait, make that a lot of baby oil. LOTS AND LOTS OF BABY OIL. And maybe a little self-tanner too.
3. The topknot always works.
We love it on busy mornings; we love it at the gym, and it seems there's no occasion that the ubiquitous topknot doesn't suit. Turns out, it's also the perfect hairstyle to accompany your birthday suit.
4. Contouring isn't just for your face.
I think we're all guilty of staring at these photos a little longer than we're comfortable with, but like a wardrobe malfunction it's hard to look away. Have another look, and you'll spot some klever kontouring from Kim's makeup artist, Mario Dedivanovic, along her spine, arms and of course cheeks. (The ones on her face, geez – what were you thinking?)