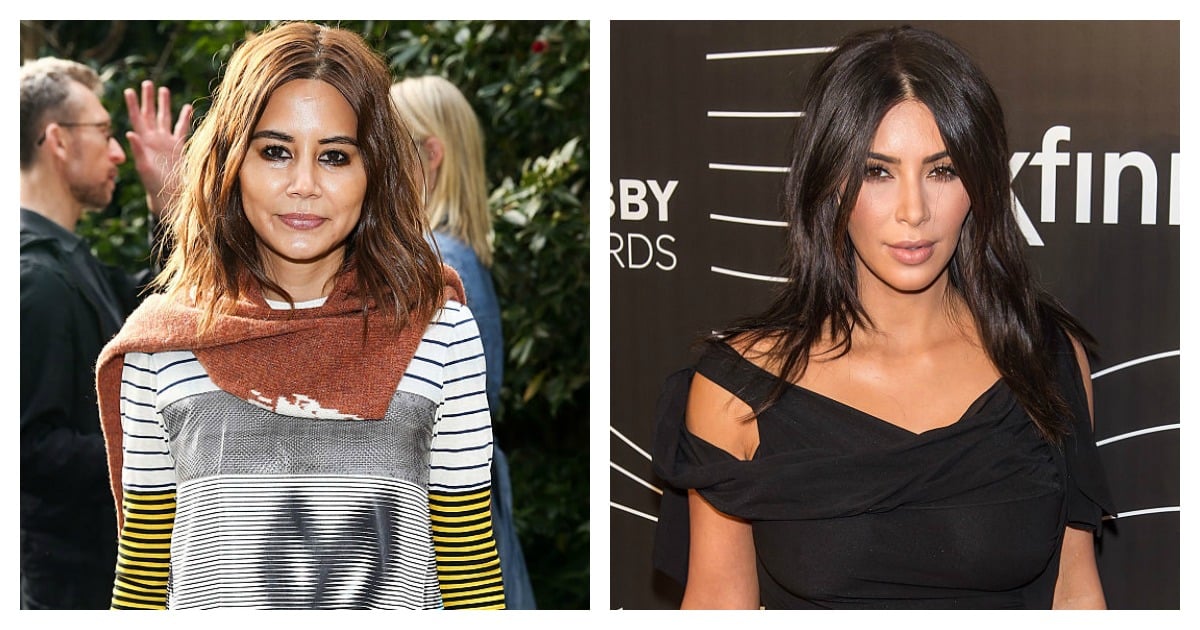 Once upon a time, Kim Kardashian's signature style had two mainstays: bright colours and clingy silhouettes.
Over the past few years, she's taken a sharp turn towards Fashun Town with her monochrome palette, big designer names and high-end, tailored cuts.
While the 35-year-old's style evolution has been largely attributed to her wardrobe overlord husband Kanye West, it seems she's had an extra helping hand along the way — one who just so happens to be an Aussie. (Go us.)
Christina Centenera is the fashion director of Vogue Australia, and according to yesterday's Sunday Telegraph, she reportedly receives a cool one million dollar retainer to "curate and oversee" Kardashian's wardrobe choices.   
Yep, that's one million buckaroos.
Centenera, who's recently been spotted out and about at Mercedes-Benz Fashion Week, met the reality TV star back in 2011 when she served as the styling consultant for Kanye West's women's collection. 
It's widely believed that West was so enamoured with the Aussie stylist's look — think neutrals, edgy cuts and high fashion staples — that she served as the inspiration for his wife's somewhat brutal wardrobe overhaul.
Kardashian herself echoed the admiration in an interview early last year, when she name-checked Centenera as her pick for the most stylish person in the world.
"I really like Christine Centenera's style… I like when someone is really put together but looks effortless," the mum of two answered.
Watch: How to recreate Kim K's double Dutch braids at home. (Post continues after video.)
"She really just knows every accessory to tie an outfit together. Sometimes people can be really simple and look great. She has definitely accessorised and just puts different things together that you wouldn't think of but they just look so good on her."
One of the duo's most recent collaborations was the June issue of Vogue Australia, in which Kardashian posed for the cover and a photoshoot.
Centenera worked her magic, styling her in a series of white Yeezy pieces layered under 10 unlaced, custom-designed corsets.
Kimye aren't the only big names who have benefited from Centenera's sartorial talents.
In the past, she's styled the likes of Cate Blanchett, Naomi Campbell, Cara Delevingne, Gisele, Kim Kardashian, Miranda Kerr, Lara Stone, Kate Upton and Gemma Ward.
If their Instagram posts are anything to go by, Centenera and Kardashian have a pretty friendly working relationship.
In a photo last year, the stylist described her famous companion as "the best dining partner", and she's previously posted during "house calls". She's also been snapped posing with Kardashian's famous sisters Kourtney, Khloe and Kylie.
Nice work if you can get it.