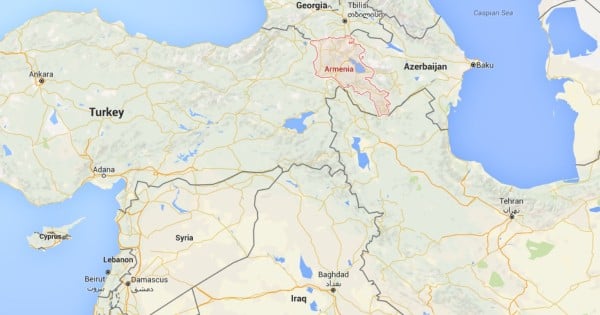 Kim Kardashian West has called the Wall Street Journal "reckless" and accused them of spreading lies after it published advertising that directed readers to an Armenian genocide denial website.
"If this had been an ad denying the Holocaust, or pushing some 9/11 conspiracy theory, would it have made it to print?" the mother-of-two asked.
Kardashian West has written an impassioned post on her blog about the issue, saying:"Money talks, and right now it's talking sh*t."
She continued: "My family and I are no strangers to BS in the press.
"We've learned to brush it off. Lies make good headlines, good headlines make great covers, great covers sell magazines. But when I heard about this full-page ad that ran in the Wall Street Journal denying the Armenian genocide, I couldn't just brush it off."
Kim and Khloe Kardashian visiting the eternal flame at the Armenian Genocide Memorial. Source: Instagram. 
Kardashian West's late father Robert was of Armenian descent, and the famous family have been vocally proud of their heritage.
"The ad was paid for by Turkic Platform. I won't list the group's website, as I don't want to give them the traffic, but basically they say that not as many people died as historians say, and that the Armenians were to blame," the reality star writes.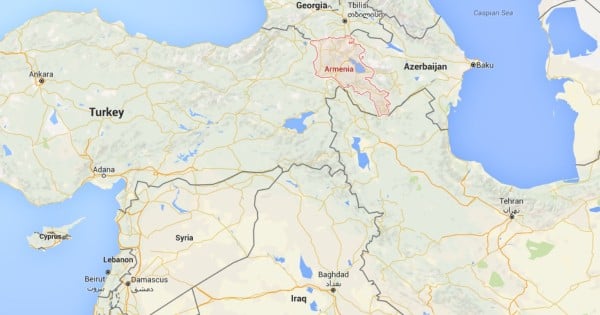 A map of Armenia and the region today. Source: Google Maps.
The Eurasian nation, which is today bordered by Georgia, Azerbaijan, Iran and Turkey, has a turbulent and bloody history.
In what remains a contentious political issue, it's estimated that between 1915 and 1916 that approximately 1.5 million Armenians were sent across the Syrian dessert and eventually killed by the then Ottoman empire (now Turkey).
Now 100 years on, Turkey continues to dispute points of the brutal event, saying the number of deaths during the period is closer to 300,000 and accusing historians of inflating figures.