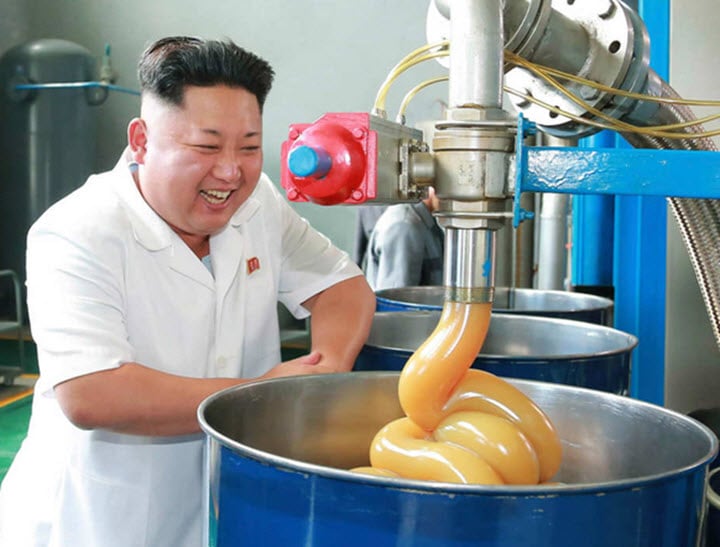 The Kim family are ridik levels of awesome. Apparently.
The latest in a string of impressive feats reported by state-run North Korean newspapers is that dictator Kim Jong-Un is an effortless mountain climber. Effortless.
This past week he casually scaled the 9000ft high Mt Paektu in an overcoat and and leather dress shoes.
He then met with a troop of Korean People's Army pilots at the peak, claiming that the climb had given him mental abilities 'more powerful than nuclear weapons' (whatever that means).
Kim climbed the peak quickly before sunrise. So quickly in fact that NOBODY saw it.
Stealthy dictator! So fit! So fast!
Kim Jong-Un looks happy to be at the top of this mountain, which North Korea claims he climbed http://t.co/VrIDdiKnUW pic.twitter.com/dJqDjm5B6s

— BBC Newsbeat (@BBCNewsbeat) April 19, 2015

If you're not regularly up-to-date on the North Korean press (madness!) then you may have missed reporting of Kim Jong-Un's previous marvellous feats. Never fear though, here are some of his most recent highlights…
1. He raced a yacht at age nine and sensationally won.  "At the age of 9, Kim Jong-un raced the chief executive of a foreign yacht company, who was visiting North Korea at the time." Just a natural sailor…

2. He is a proficient artist and a world-class music composer. 

3. He could drive by the time he was three-years-old. Not sure how his feet reached the pedals, but we don't doubt he was a skilled and precise driver, in between naps.
Kim Jong-Un is almost as impressive as his late father, Kim Jong Il, whom he took over from after his death in 2011.