Kim Kardashian's high school best friend, celebrity stylist Simone Harouche, reportedly hid in the downstairs bathroom of the luxury Parisian apartment while Kim was robbed of $14 million in jewels.
Reports differ as to how Harouche was alerted to the fact her friend was in danger – some say Kim screamed for help, while others report she simply "heard noises" before hiding in the bathroom.
As the five armed robbers bound the reality star's wrists and locking her in a bathroom, Simone texted Kim's longtime bodyguard Pascal Duvier and her sister Kourtney Kardashian.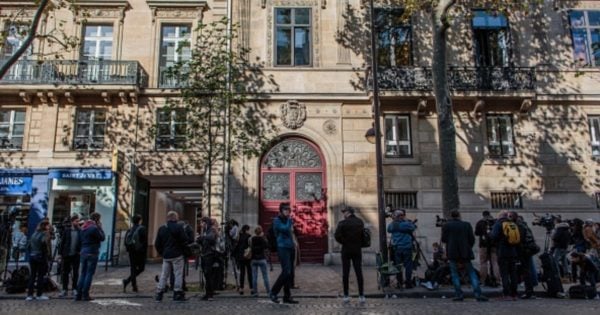 Outside Kim Kardashian West's Paris apartment. Source: Getty. 
"She couldn't dial 911 from her phone," a source told E! News.
A look back through Kim's jewellery collection (post continues after gallery):
Mr Duvier - who has become the subject of scrutiny after he left Kim alone for the night - was escorting Kourtney and Kendall Jenner on a night out to L'Arc nightclub two miles away.