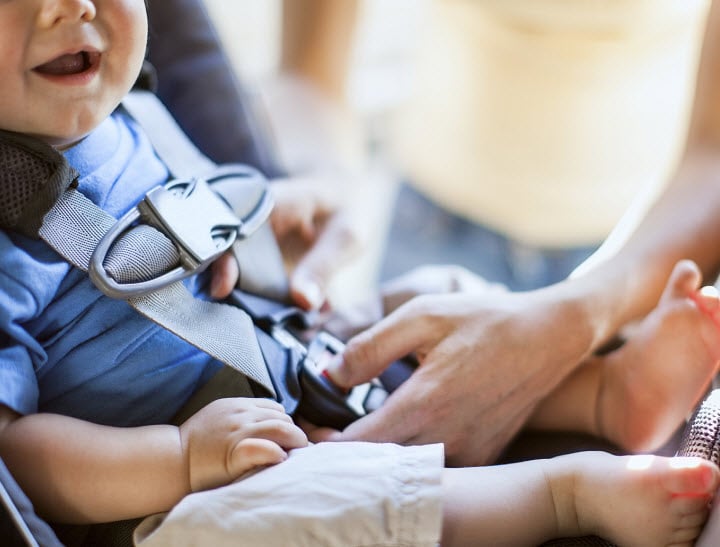 Every day, at petrol stations all over Australia, parents leave their kids in the car when they go inside to pay. So earlier this week, when an expert declared they shouldn't, it sparked an outcry.
"There is NO SAFE WAY of leaving children in a car while paying for petrol," Dr Claire Wilkin, medical adviser for paediatric first aid training facility Kidzaid Australia, told news.com.au. "No exceptions. No excuses. Just don't do it. It isn't worth the risk."
Dr Wilkin explained that it wasn't just about cars heating up. "Children can become distressed in a matter of minutes, or even less in the case of babies," she said.
She pointed out the risk of kids releasing the handbrake, and also raised the possibility of a fire or an explosion.
"Having a child harnessed into a child seat or baby capsule makes it very difficult to rescue them," she added.
The NRMA weighed into the issue, talking about the "powerful case" for not leaving children in the car when paying for petrol.
At the same time, they revealed the results of a member survey, saying nearly one-third of people thought it was an acceptable thing to do.
So are there any child safety experts who think it's okay to leave kids in the car?
Jason Chambers, the acting CEO of Kidsafe Victoria, says they feel it's a decision to be made on a case-by-case basis.
Here's some more good advice involving kids, cars and safety. Post continues after video...
"We don't have a definitive line there, which is, 'Yes, do it,' or 'Don't do it,'" he tells The Motherish. "If it was someone who had a carful of children and they've got to get them all out, that could be more dangerous for them all to be crossing where cars are coming in and out."
However, Chambers does have a few tips for parents.
Plan ahead. Maybe one parent can get the car filled up in the evening while the other is minding the children. Or, if a parent is driving the car with no kids, fill up ahead of time. "We do realise this isn't always possible," he says.
Take your keys with you when you go to pay. "There have been instances in the past where someone has jumped in the car while the keys were in there and the children were in there and taken off," he explains. "We also see a lot of kids who become locked in cars because they access keys and press the button."
Choose the bowser closest to the petrol station, to minimise the time you're away from your car. Chambers says children letting off handbrakes is not the only danger. "We've seen car fires started by kids accessing the cigarette lighter. There have also been instances of kids accessing things like Panadol from their mum's handbag."
Obviously, paying at the pump is the best solution, if that's an option at a servo near you. "Something we would really like to see more of are the pay-at-the-pump-type service stations," Chambers adds.
Do you leave your kids in the car when you pay for petrol?