I am fully aware that this may make me sound a tad nuts, but every time I sign off a birthday or Christmas card I always include each member of our family – my name, my husband's name, my two daughters' names and then my non-human children, my two cats and two goats' names. To me, they are important members of the family and I do truly believe that if they could, they would send these festive wishes to our friends and family too.
My absolute love, respect and adoration of animals has been a part of me for as long as I remember. I grew up in a house that apart from perhaps a year or two when I was first born, always had an animal. Birds, cats, fish, hermit crabs, a worm farm, there was always an animal to care for and love and each one taught me something unique and lasting, not just about animals, but about life. For me, having an animal was always really important for me as an individual and I knew one day when I had my own kids that I would want the same for them.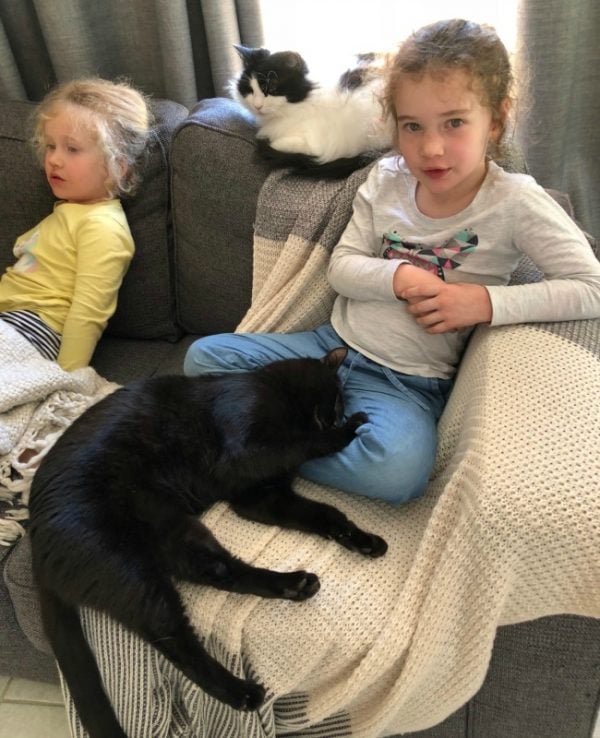 When my eldest child was born my husband and I had two cats that we had adopted from animal shelters (our first babies). They had been with us for about six years before the arrival of our human children. Having cats around our newborns sometimes got questioned by those unfamiliar with cats or with bad experiences.
"Don't they scratch them? Won't they hop into their cot?" The answer is if you're a responsible pet owner and parent you put precautions into place and the likelihood of anything bad happening is pretty minimal.
So no, in our case our children made it unscathed and instead built incredible relationships with Lego and Tonka (our two cats). They learnt how they should pat them, how to play with them safely and what happened if you didn't, what cats didn't like (water, their tails being pulled, loud noises, being woken up) and not only did they learn this, they then passed this information onto our visitors when they came around.