The terrifying moment a one-year-old boy was kidnapped from a grocery store outside of Boston has been captured on CCTV footage.
Walking into South Shore India Market in Braintree on 12 August, 47-year-old man Stephen O'Brien can clearly be seen on camera scooping up a young boy, tossing him onto his shoulder playfully, and walking quickly toward the back of the store.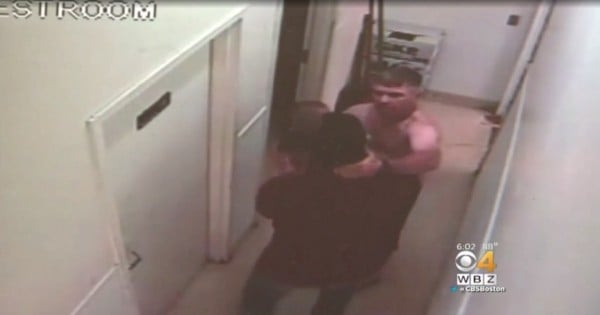 O'Brien hands the young boy back to his father. Source: CBS News.
"This gentleman walked in without a shirt and just grabbed the kid," store attendant Mehtab Ahmed told CBS News.
The boy's father, also on camera, can be seen following quickly behind, clearly confused as to what is happening. The boy's parents later told told police they initially believed O'Brien was a store clerk who was playing with their child.
Moments later, CCTV footage then shows the father confronting a shirtless O'Brien at the back of the store and grabbing his son back, who was thankfully unharmed.