There are few things more intimate than pulling somebody into your reverse camera and watching their face be swapped for your own. And The Bachelor's Keira Maguire and Richie Strahan done just that.
The pair have traded faces in the kind of Snapchat you'd think they'd save for Halloween and it's truly bizarre.
Strahan appears to pull off Keira's cat-like cheekbones quite well but the same can't be said for his face and her golden locks. Keira on the other hand appears to be channeling Boy George with a beautifully manicured beard.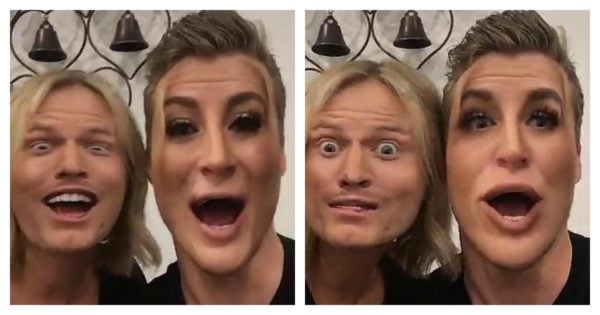 The two played around with filters as Keira, 30, addressed the camera. "Oh hey guys, just hanging out with my ex-boyfriend," she joked.
Strahan, 31, stretches his face as the two laugh at the visions of beauty before them. (Just quietly, Keira makes a pretty hot surfer dude).
Yet Alex is no where in sight in the funny Snapchats.
We imagine she currently looks something like this:
We'll leave it there and hope the two continue to share more than a swapped face.