Where's your phone right now?
Your pocket? Your bag? If you're reading this on your smartphone then we're guessing it's your hand. But if it's in your bra, you might want to think about taking it out of there.
A Melbourne researcher from Monash University has issued a warning to Australian women not to store their phone touching their breast or anywhere else on their skin.
Listen: Tina Harris talks about how she survived breast cancer and managed family time.

Dr Mary Redmayne says that many studies have pointed to an "increased risk of brain tumours from extended mobile phone use", yet the information on whether smartphone exposure has links to breast cancer is lacking.
"People should play it safe and ensure they do not store their smartphones directly against their bodies," Dr Redmayne said.
The warning comes after a recent Monash University study revealed that a quarter of women surveyed had carried their smartphone tucked into their bra – with 15 percent doing so in the past week.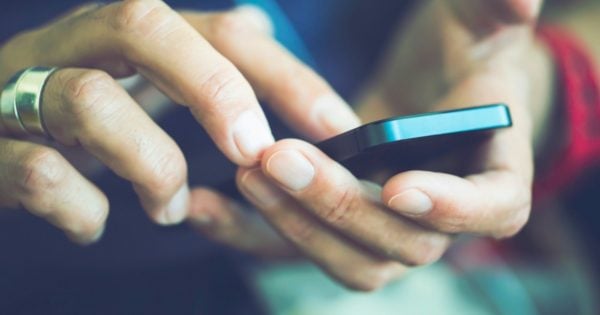 The study showed that while women had concerns about whether smartphone use was linked to sleep issues, cancer and headaches or dizziness, this didn't translate to how closely they kept the phone to their chest.
According to Dr Redmayne, this is concerning because your phone isn't just active while you make a call. Phones regularly emit electromagnetic radiation when they're on standby because many apps run automatically in the background to update information.
According to the study, there is no agreement within the scientific community on whether low, ongoing exposure to this radiation could affect your health, but the human body does absorb the radiation.
So while it's not conclusive, Dr Redmayne's "play it safe" advice is worth thinking about, especially given that smartphone manufacturers, such as Apple, also warn against storing your smartphone touching your skin.
In its user guide and online, Apple recommends using hands-free options to reduce exposure to radio frequency energy. It also informs users to keep their phone half a centimetre away from their body for their exposure to remain at the levels tested to meet limits.
"Carry iPhone at least 5mm away from your body to ensure exposure levels remain at or below the as-tested levels," it reads.
"The main outcome of this pilot study will be to assist in designing a cancer or tumour study, with a principal interest in breast cancer in women due to the observed habit of carrying a phone in the bra, directly against the breast," Dr. Redmayne said.
It's the results of this study that we'll be anxiously waiting to see. In the meantime, we'll be keeping out phone in our bag. Just in case.