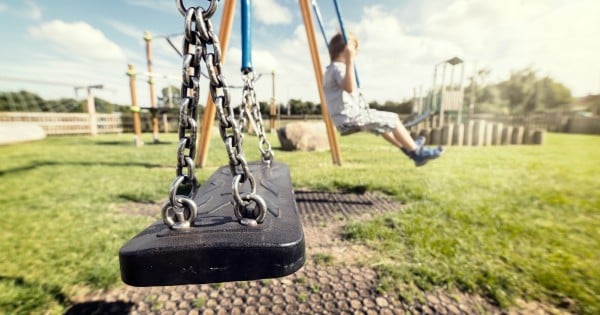 It's the video.
A man takes long strides past a shop window. He's holding his wrist, or looking at his watch. His steps are firm, purposeful, his head is up, looking around. He doesn't appear to be in a rush.
At his heels are two small children. Their steps are shorter, more hurried. A boy and a girl, following the man in the dark coat to who knows where.
He's not their dad. He's not their uncle. He's not a family friend, or a professional paid to care.
He's your worst nightmare.
Allegedly, this is a man who came to lure two small kids away from safety. Away from the adults who were meant to be keeping watch over them.
A man who came to take them and hurt them.
These children live in Perth. They are a four-year-old girl and a five-year-old boy. They were at a vacation care centre, like thousands and thousands of other kids have been over the last month as Easter holidays have rolled out across the country.
Just like my kids have been.
Watch the WA police brief the public on the incident below. Post continues after video…
It's the horror story of the day. Tonight, a 52-year-old man has been charged with three counts of sexual penetration of a child, and two counts of deprivation of liberty in connection with this case. We can hope that he has been stopped.
The children he allegedly assaulted were discovered alone in a park at lunchtime yesterday, about one hour after they went missing. A stranger – a very different kind of stranger – wondered why they were playing alone, and questioned it.
Allegedly, no-one had raised the alarm at the Care Centre. No-one had noticed they were missing.