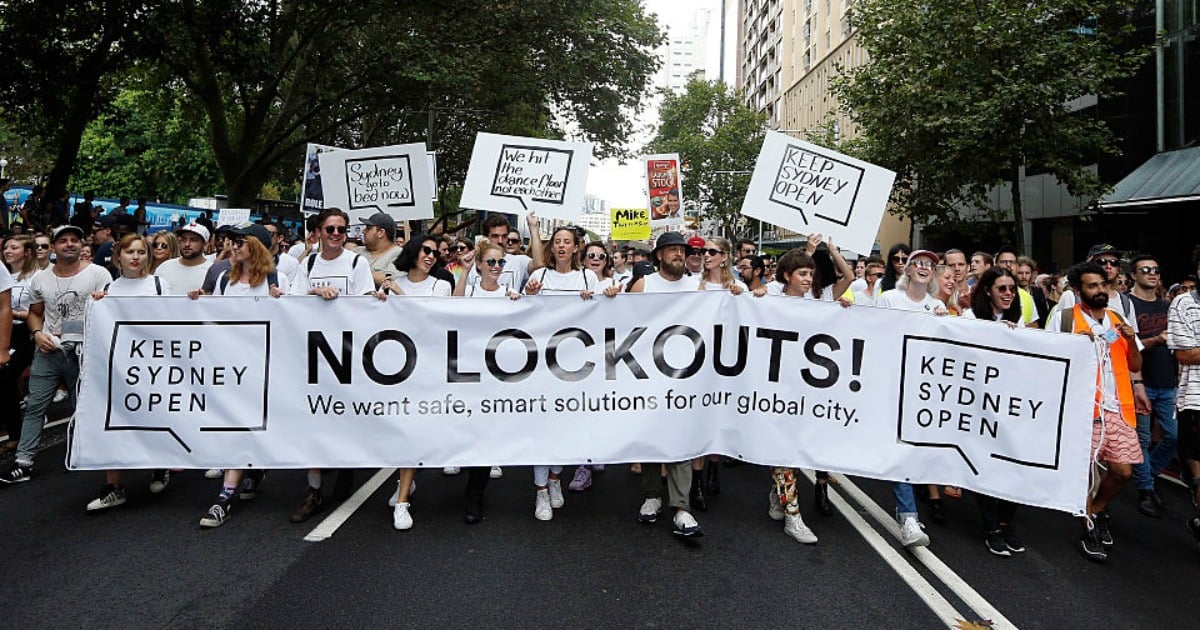 15,000 people walked the streets of Sydney yesterday for the 'Keep Sydney Open' protest against the city's new lockout laws.
The crowd – which included some of Australia's top DJ's, venue owners, chefs, celebrities, and musicians – battled thunderstorms and sacrificed sleep ins to have their voices heard.
15,000 people.
That's three times the turnout of the 2015 Sydney marriage equality rally, and more than seven times the turnout for this year's 'Let Them Stay' asylum seeker protest.
So why is the 'Keep Sydney Open' movement is yet to be taken seriously?
The Baird government's python-like squeeze on Sydney's once vibrant nightlife is not a  'first world problem'.
It is not a youth-specific issue, or a tantrum because drinking rights are being revoked.
It is a sociological error that all of Sydney will soon be struggling with the consequences of; regardless of age, drinking habits, or choice of bedtime.
News coverage on the topic has been so biased in its unabashed support for the lockout laws, that many of you readers might be convinced of this utopian CBD Mike Baird is so keenly pushing.
Well, consider this the other side of the story – the real talk behind the never-ending onslaught of grim (albeit curated) facts about alcohol-related violence, drug raids, and Baird's promise of nightlife Nirvana.
I spoke to three men of three different generations, all of whom attended yesterday's rally, and all of whom bring valuable insight to the debate.

Hospitality veteran, business owner, and father Eddie De Souza has seen Sydney's nightlife go from boom to bust.
Eddie first got into the hospitality game in 1997 as a bartender at The Paddington Green. 19 years on and Eddie now owns four businesses, one from every facet of the food and beverage industry: a pub, a late-night bar, a cocktail bar, and a restaurant. All of which, he notes, have suffered from the lockout laws.