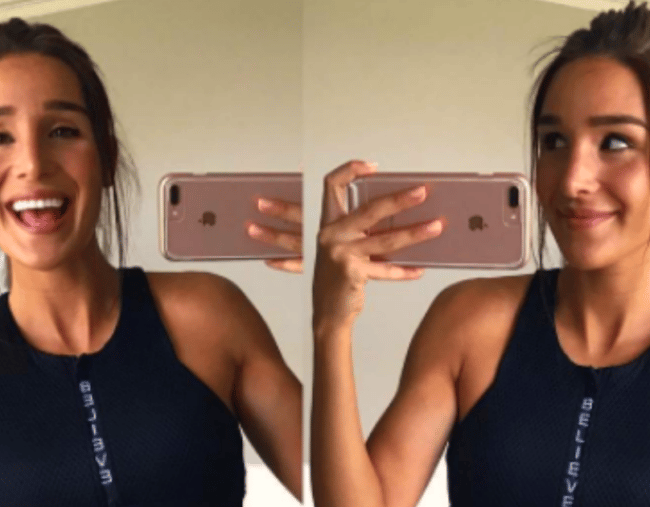 Kayla Itsines is standing on a podium in front of thousands of adoring – and screaming – fans in Amsterdam, London, New York, Sydney.
She is dressed in neon shorts and crop top, her chestnut brown hair pulled into a high pony-tail, her wash-board abs definitive proof that if anyone has a Bikini Body worth making millions off, it's Kayla Itsines.
Her voice booms into a microphone, instructions and motivation aplenty, crafting a bootcamp session that looks more like a rock concert. It's fitting, of course, that in all the footage of Kayla Itsines performing her famous Bikini Body Guide workouts across the world, fan girls yell her name and stadiums are at capacity.
With seven million followers on Instagram and 12 million on Facebook, Itsines is the Taylor Swift of the fitness world, with a cult following trailing her every move.
Born in Adelaide, the 26-year-old fitness phenomenon went from a little known 18-year-old personal trainer to Forbes' world's top fitness influencer in 2016 and a member of the BRW Young Rich list, sitting on an estimated wealth of $46 million.
Kayla, as she is more colloquially referred to by her most loyal fans, populates her Instagram feed with before-and-after photos of happy women who have seen success with her easy at-home fitness routines, breakfast foods styled to magazine perfection and inspiring quotes to help you think twice about skipping your daily workout.
She's the girl next door, your fitness virtual bestie who cares about you, your health and your self-esteem.
At least, that's the brand.
According to 27-year-old student Therese Jansson, who first bought into her original Sweat with Kayla app in 2016, her experience with the social media star and The Bikini Body Training Company has been "shocking" and "disappointing".
Jansson is just one of many disgruntled SWEAT customers who allege Itsines' empire is charging them after they have cancelled their subscription, ignoring customer service inquiries and deleting complaints from their public Facebook page.
"I downloaded [Kayla's] app about a year ago now and I cancelled in late August 2016. Over the Christmas/New Year period, I got a new email from them. They said to me, we're offering you 12 weeks for $1 and I accepted it because it was so cheap," she tells Mamamia.
"When I went to cancel my subscription after the 12 weeks was up through my App store, there was no option or way for me to cancel."
Since April, Jansson has tried to contact the company through their website, alleging they "won't respond" to her. She has been charged $19.99 monthly for an app she has specifically said she doesn't want.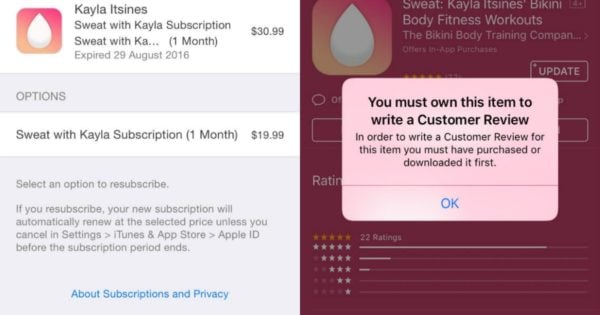 "I was annoyed... but I got more pissed off when I saw other girls had the same issue and they were posting on Facebook and the posts were being deleted. That's so wrong," she says, claiming that of the several complaints posted to Facebook every week, almost all were deleted within a "few days".
"I get so, so frustrated and so mad. I see how much she is worth, I follow her on social media and I see her at big events and she is posting constantly and being such a positive platform. I see she is big internationally and she is taking our money, she is taking my money. It's just $20 why do you think you can't respond to that? Why do you feel like you can steal that from me?" Jansson says.
Jansson isn't alone.
Thirty-year-old lawyer Minela Addison says she too was seduced by the $1, 12-week offer. She tells Mamamia she had no problems with the app and actually sought to keep using it. By May 8, Addison says she tried to log back in after a fortnight hiatus only to find her subscription had been cancelled on her behalf. She complained, but heard nothing. Come June 1, Addison claims money was taken from her account on the assumption that she was still using the app.
"I lodged a complaint and it took a full week for someone to get back to me. They pretty much said, 'our system is showing up that you're not subscribed'. They asked me to screenshot my bank statement and PayPal, even though I had initially provided the screenshots.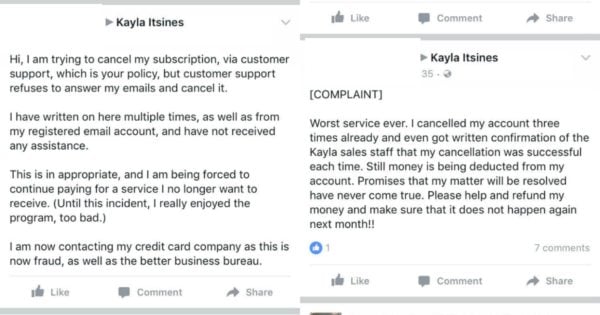 "I replied within minutes and I didn't hear anything over another week. I was trying to find another way to contact them, but I couldn't find one.
"I am not a serial Facebook complainer, but it was the only avenue I could see to get someone to get back to me."
Addison says Itsines herself replied a few days later on Facebook, giving her a new email address to contact. Addison claims when she contacted that address, no reply came, and when she went back to find her Facebook post to complain again, it had been deleted.
"I am just really disappointed and shocked. My husband put it bluntly, he said she's running a multi-million dollar business on a dollar budget. They're clearly not investing in customer service, it's completely non-existent," telling Mamamia, from appearances, Itsines seems "disconnected from the business".
"I have never experienced any thing like this, I have never had this low level of costumer service."
The day after Mamamia made contact with Itsines' team outlining the allegations, Addison says she received an email assuring her they were looking to her payment complaints. Addison believes that if it wasn't for media interest, she would "not have received any correspondence".
Thirty-year-old Alina Shinkarsky's experience with the company mirrors Addison's and Jansson's. After downloading the app five months ago, she tried to delete more than six weeks ago. She too had the same experience as Therese Jansson, saying she was unable to cancel her subscription despite repeated efforts to do so.
After six weeks of consistent emails to customer service and posts on Kayla Itsines' Facebook page - which she claims were systematically deleted, also -  she received confirmation only days ago the company was looking into her payment complaints. That email, too, coming the day after Mamamia put the allegations to the SWEAT team. She says her dealings with the business has "put a dark cloud over the entire experience".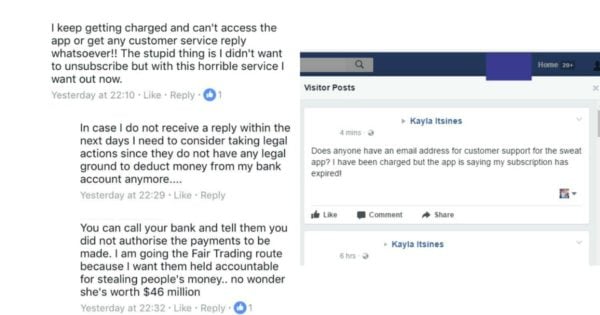 New Zealand native Emmeline Croft, 29, wasn't as lucky in getting a response.
After downloading the seven-day trial two months ago, within days she knew it "wasn't for her". She alleges that despite cancelling her subscription, she was immediately charged.
"After I noticed the first payment [I made a complaint and] they claimed it would be resolved not long after. But then a month later I still hadn't been refunded and they took another month out.
"I got in touch via email and then [Facebook] Messenger - they then claimed their manager would look into this - but still I am yet to hear any further action."
Croft, too, claims she has noticed Facebook complaints are being deleted from Itsines' Facebook page, calling the practice "disturbing".
"The people need to know and be made aware before giving up their account information.
"[Itsines] should be taking immediate action and should be embarrassed and humiliated that her name is being tarnished," she says.
Like Addison, Jansson, Croft and Shinkarsky, Mamamia found it difficult to get in touch with the SWEAT team.
A contact form on their website is the only way of making contact and even then, the team say their 'rapidly growing community' means they are trying to 'upgrade their support team'.
As such, they endeavour to respond to all enquiries within five to seven business days.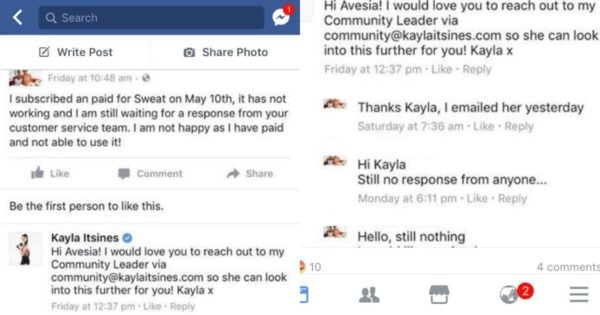 It's not the first time consumers have flagged an issue with the company's inability - or refusal - to cancel subscriptions and a propensity to ignore customer service complaints.
In January 2016, The Courier Mail reported frustrated fans were taking to social media to vent their frustrations about her app, claiming they had been charged $19.99 a month through their Apple accounts despite discontinuing their use of the app.
"Beware! 1 week free also automatically sets your Apple ID to subscribe and debit without your approval … Misleading to say the least not worth $20," the paper reported one frustrated user wrote on social media.
In screenshots of reviews obtained by Business Insider at the time, complaints centre on similar and familiar threads.
"Sent several emails about a problem with the app. No response. Kayla launched an app and forgot the customer service aspect," one reviewed.
"Thought I cancelled my account, they charged my account again. Never got an email back, also got overdrafted," another said.
In a statement to Mamamia, Bec Sealey, Chief Brand Officer of the SWEAT app, did not comment on allegations that the company deleted complaints from their Facebook page, despite our repeated efforts to understand the claims. Instead, Sealey claims the company takes payment-related issues "very seriously".
"The native SWEAT app uses Apple and Google to facilitate all membership payments and thus, we are governed by third-party payment regulations and rules. These terms and conditions are clearly set out in multiple areas within the app and are always available for viewing online," the company's statement read.
"SWEAT takes all payment-related issues very seriously and with priority, and where an actual error has occurred, customers are always accommodated."
A spokesperson for Consumer Affairs Victoria told Mamamia for anyone who is being charged against their will, screenshots of the processed payments are crucial and they are absolutely "entitled to a refund". If they're still unable to contact Itsines' team, Consumer Affairs says a consumer has two options.
Firstly, a consumer is paying on a credit card, they can contact their credit card company and ask to have the charges reversed. It's called a chargeback.
For those paying on a debit card, the process is a little more complicated. Consumer Affairs say they are more than welcome to complain through their channels, but it's important for a consumer to "manage their expectations". In short, if a consumer is struggling to get a hold of the company, Consumer Affairs might struggle too. In addition, making an application with VCAT is always a possibility, but an application can be costly. Unless you're chasing a debt over $200, it might be important to assess whether it's worth it.
Addison says she sees no other option than to take her case to Fairtrade, while Jansson is seriously considering cancelling her bank card all together to halt payments in their tracks.
There's no doubt: Kayla Itsines has built an impressive, world-class fitness empire that has millions of women enthralled. But as she stands on stage and gives bootcamps to casts of thousands, Addison says Kayla Itsines is the face of a company that appears to struggle to connect, on even a base level, with her customers.
"She's the face of the company, but it's like there's nothing or no one underneath her," Addison said.