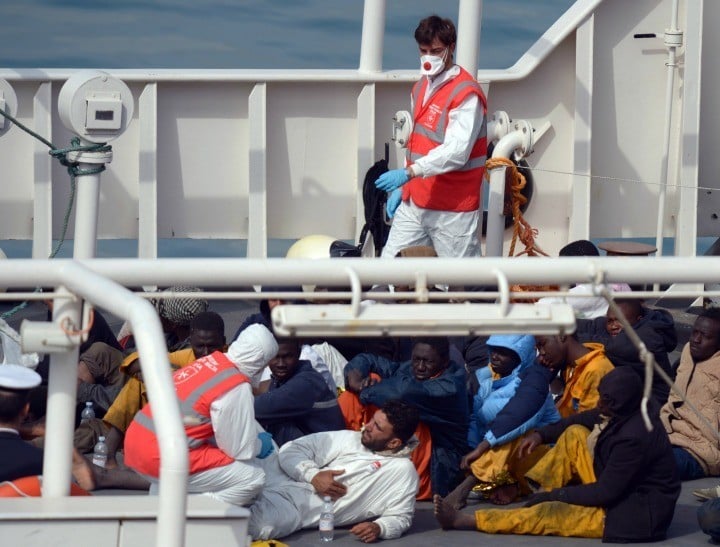 There is no compliment in this woman's admiration for Australia.
Steady yourself, people with hearts. Because these might be some of the most depressing words you've ever read:
"Australians are like British people but with balls of steel, can-do brains, tiny hearts and whacking great gunships.
"Their approach to migrant boats is the sort of approach we need in the Mediterranean."
'Tiny hearts'. Now there's a national characteristic to be proud of.
Those words were written by Katie Hopkins, a UK media commentator so objectionable that she has built an entire brand around poking bears. Want someone to say something offensive about "fat" people? Call Katie. Single mothers? Call Katie. Familes on benefits? Call Katie.
She goes on:
"[The Australians] threaten [asylum seekers] with violence until they bugger off, throwing cans of Castlemaine in an Aussie version of sharia stoning.
"And their approach is working. Migrant boats have halved in number since Prime Minister Tony Abbott got tough."
From Jam: "Just because the boats stop, doesn't mean the suffering does."
You get the picture. Katie Hopkins talks tough. She is a professional troll. And she is very good at her job. When most media professionals are at pains not to offend, she actively careers the other way, with gusto.
Generally, we know not to "feed" the trolls. If you are not looking at them, if you switch over, tune out, unfollow, then they lose their power.
More from Hopkins: Katie Hopkins purposefully gained 20kg, to show how 'easy' it is to lose weight.
But Katie Hopkins is a troll with a column in a mainstream national newspaper. One with more than two million daily readers.
And this week, as well as reading what a marvellous, effective and cruel refugee-settlement program Australia has, readers of Hopkins' column can also enjoy this:
Rescue boats? I'd use gunships to stop migrants.

NO, I don't care. Show me pictures of coffins, show me bodies floating in water, play violins and show me skinny people looking sad. I still don't care.
In the same column, she also called immigrants "vermin' and "cockroaches."
Unsurprisingly, the reaction to a mainstream national newspaper running such a hate-filled column has been fast, and furious.
Fuelled by the horrific loss of 700 desperate refugees' lives at sea in the Mediterranean this week, readers sick of seeing hatred dressed up as 'opinion' have called for Hopkins to be fired from the The Sun, and an official complaint has been lodged with the police over Hopkins, and The Sun's editor's "incitement to racial hatred."