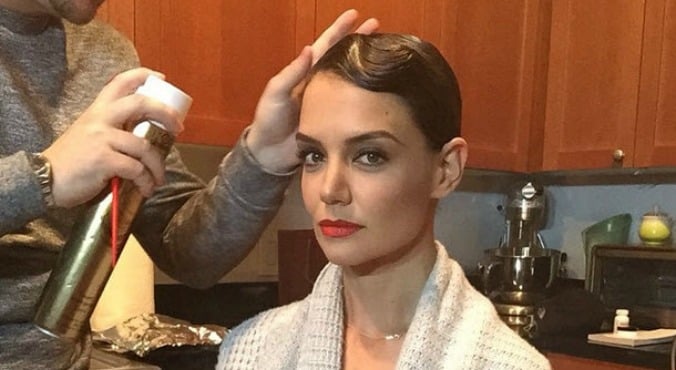 Image: Getty
We thought The Great Gatsby fashion resurgence had just about run out of steam – but apparently we were mistaken.
When you see the divine 1920's finger wave hairstyle Katie Holmes wore to a fashion show in New York earlier this week, you'll understand what we mean.
Fancy 1920s hair how-to: No tricky braiding required
Usually, the Dawson's Creek alumnus is much like Kate Middleton when it comes to her hair – she tends to keep things simple and classic. So it's quite surprising to see Katie break habit with an offbeat vintage look like this.
Makeup artist Genevieve Herr shared a behind-the-scenes photo of the 36-year-old actress being prepped for Zac Posen's runway show, showcasing some A+ contouring (hello, cheekbones) and strong brows along with her glossy '20s do.
Daisy Buchanan would approve, no?
And here's how she looked at the show – as you can see, the rest of her hair was scooped back into a simple low bob.
3 ways to curl your hair without a hair curler. 
Look, it's not really our place to tell women what to do with their hair, but we're going to put it out there anyway: Ms Holmes should embrace the vintage look more often. It's a winner.
Speaking of celebrity hair we can't stop talking about, click through this very comprehensive gallery to see the latest and greatest cuts and colours in Hollywood right now.
The best celebrity hair transformations