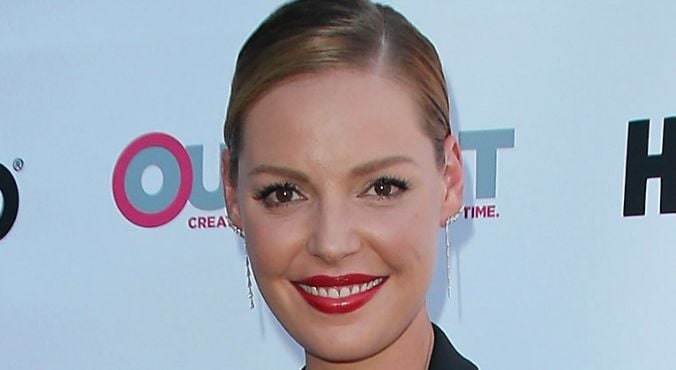 Image via Getty.
Anyone who has ever gone platinum blonde knows it's no easy task. As well as being high maintenance, another major concern of dyeing your hair is usually the serious damage bleaching can do to hair…
But that hasn't stopped these celebrities from going platinum in recent weeks.
RELATED: We get to the bottom of every hairdresser's new obsession, Olaplex.
Overnight, Katherine Heigl shared evidence of a major hair change on Instagram. The former Grey's Anatomy star has dyed her honey blonde hair several shades lighter — we're talking an 'Elsa from Frozen' shade of blonde.
"Went platinum for my new movie role... still getting used to it. The good news is @joshbkelley is vibing it...;)," the 36-year-old, who is married to musician Josh Kelley, explained in her caption.
This is a big move for Heigl — aside from dying her hair dark brown for a role a few years ago, she's generally stuck with her trademark honey blonde. So we're not really surprised that it's taking a bit of adjustment. For what it's worth, we love the new look. (Post continues after gallery.)
Katherine Heigl on Instagram.
Lily Allen
Heigl isn't the only celebrity who's been tweaking her 'do.
Lily Allen is no stranger to changing up her hair colour — a few months ago it resembled a watermelon — but this time the British singer has steered away from bright rainbow shades. She's updated her short bob with a creamy platinum dye job.
Allen captioned the image, "That new new blonde @alexbrownsell", crediting celebrity hair colourist Alex Brownsell, who also looks after Georgia May Jagger and Florence Welch's hair.
RELATED: Lily Allen has armpit hair, everyone FREAK OUT.
Britney Spears
This year alone, the queen of pop has chopped her long hair into a lob, gone back to longer hair (ahem... extensions), and experimented with dip dye in a lovely shade of purple.
Now Spears has taken things one step further, adding a splash of blue to her platinum hair as you can see in this backstage photo she shared on Instagram yesterday. (And yes, that is Skrillex she's posing with.)
We kinda love it. Well played, Britney. Well played.
Check out some of The Glow team's favourite celebrity hair changes...
The best celebrity hair transformations