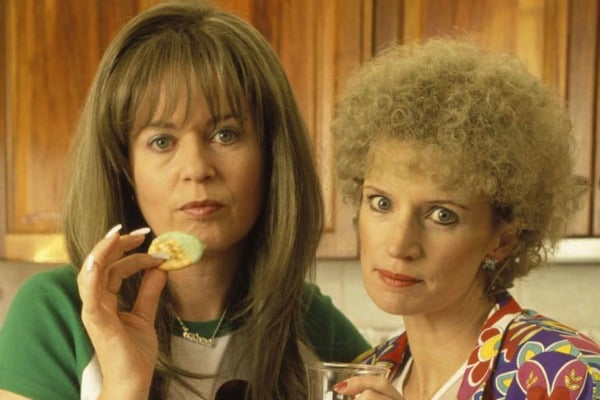 Grab a glass of chardonnay and set up your favourite deckchair, friends.
There's something noice, different and unusual coming to Netflix this month.
Yep, Kath and Kim is officially back on our screens and we couldn't be any more excited.
Here's some words of wisdom from Kath and Kim to celebrate. Post continues after video.
All four seasons of the cult Australian show, starring Jane Turner, Gina Riley and Magda Szubanski, are now available to watch on Netflix.
Compilation specials Kath and Kim: Kountdown Specials and Kath and Kim: The Souvenir Editions will also appear on the streaming service from next month.
(Side note – here's hoping the Kath & Kim movies, Da Kath & Kim Code and Kath & Kimderella get added to Netflix soon too.)
To celebrate Netflix bringing back our favourite TV show, here's 14 of our absolute favourite quotes and moments from Kath and Kim.
1. There's only one way to celebrate special occasions.
"This calls for BBQ Shapes and a bottle of Baileys!"
2. That time when Kim didn't know how to pronounce 'chardonnay'.
"Alright then, chardonnay, chardonnay, you pack of chunts!"
3. It's not a crime to keep yourself trim.
"I like to keep myself trim Kim. Does it make me a crim to keep myself trim?"