This story deals with suicide and may be triggering for some readers. 
I didn't know much about Kate Spade before Tuesday. Of course, I recognised the iconic brand but I didn't own any of her pieces and I certainly didn't know much about the woman behind the global fashion empire. I didn't even know she was actor David Spade's sister in-law. Watching an old 2002 CNN interview, I was struck by her outward beauty and her zest for life. It made me wonder whether there had always been a dark shadow hovering over this bright, talented woman or whether something had occurred in recent years to take her down the heartbreaking path to suicide.
I have been deeply saddened by this story as it has unfolded over the past week. Her friend and colleague Elizabeth Kiester described her in a Vogue story as "human champagne, bubbly and effervescent, making everything bright and sparkly and funny and fun." Sadly, so many who decide to take their own life often have a happy, energetic side to them that makes the act of suicide even harder for everyone else to fathom. I imagine her family and friends are in a world of pain right now. I've been there – blindsided by suicide. There are so many questions, so much guilt about whether the person could have been saved.
Then on Friday night, news filtered through of chef Anthony Bourdain's suicide. I was in shock. Another wonderful human being, who broke down barriers and united people from all walks of life through food, was gone. I guess it's human nature to wonder why and how Kate Spade and Anthony Bourdain, people who seemingly had an ideal life, decided to end those lives. Their fame and vast fortune make them intriguing figures and people who didn't know them at all are wondering why and how. But just because we wonder about these things, it doesn't mean we have a right to know.
I have been very uncomfortable with the media's coverage of these stories, in particular the early reporting on Kate Spade's death. Unavoidably, just by being on social media, as so many of us are, I was privy to her lifeless, covered body being transported out of her New York apartment. It was a confronting sight to see the sizeable crowd, many of them journalists or photographers, hovering over the scene. I also came across an interview with her sister describing Kate Spade's depression and her unwillingness to be treated for it. I heard about how she committed suicide and I heard reports about the words she left to her daughter in a suicide note.
Kate Spade's daughter Frances Beatrix is only thirteen years old. Anthony Bourdain's daughter Ariane is just eleven years old. These girls are at the centre of these terrible tragedies. It is they who will have to live within the shadow of these events. These young girls will have to navigate life without the parents they adored and relied on. It is the saddest part of all of this.
Yet, if Kate Spade's daughter is anything like the thirteen year olds I know, she will also have social media accounts or have friends who have social media accounts. That means that even if her father wanted to keep the sad details of her mother's death from her, or even if he wanted to tell her about the details in his own time or at a moment when he felt she could handle it, the truth is she will probably be confronted with it without warning and possibly at a time when she is alone. It is a devastating thought.
How terribly sad that these families most private of moments should be shared with the whole world. There was no reason for the details of Kate Spade's death to be splashed across media the whole world over. We didn't need to know exactly how Anthony Bourdain ended his life. Fame and wealth shouldn't be an automatic ticket to access a family's pain.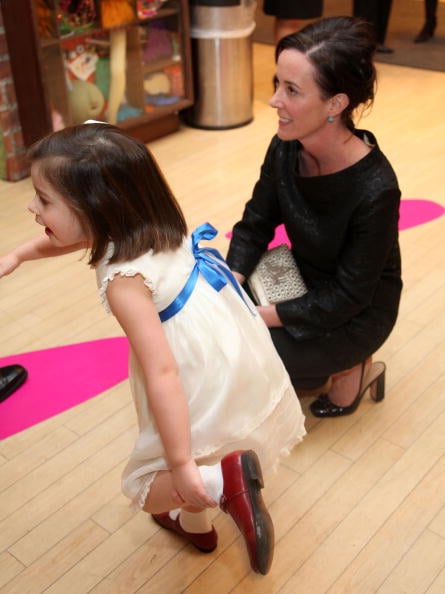 I believe that mental illness and suicide should definitely be discussed. There is still far too much stigma surrounding this issue, and many in the community do not understand how dark a place a person must be in to take their own life. Insensitive comments on social media have reminded me that we have a long way to go to break down the stereotypes and misconceptions surrounding suicide.
However, I also believe the media has a responsibility to report on such matters in a sensitive way, and with regard to media guidelines around the reporting of suicide. The reporting of Kate Spade's death, and to some degree Anthony Bourdain's, have been anything but sensitive. I can't help seeing it all through the eyes of their young daughters and being heartbroken. As one Twitter user said of Kate Spade, "She is a human who felt worthless..." - the rest really doesn't matter.
All of us who consume the news are voyeuristic to some degree. We have to take some responsibility for clicking on the stories and watching the reports. Sometimes however, it seems like a little too much.
Let us see these two deaths for the human tragedies that they are, let us recognise how common an affliction mental illness is in today's society and let us not forget that despite Kate Spade's and Anthony Bourdain's formidable careers, the people who will miss them most are their families. These are stories about two little girls who have lost a parent, families who have lost a wife, a partner, a child, a sibling and a friend. They are human stories and I think in today's fast paced news services and chase for clicks and likes, the media often sadly forgets that important fact.
If you think you may be experiencing depression or another mental health problem, please contact your general practitioner or in Australia, contact Lifeline 13 11 14 for support or beyondblue 1300 22 4636.