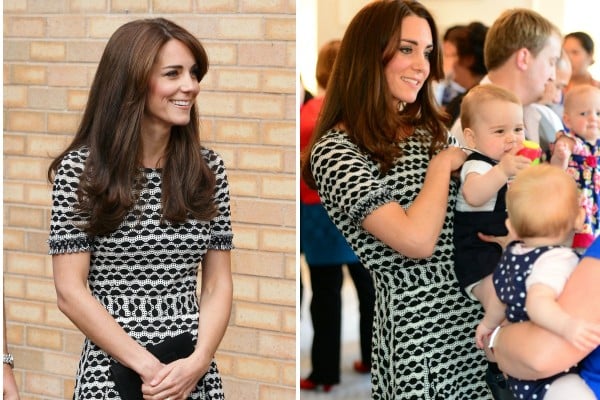 The Duchess of Cambridge Kate Middleton has made a sartorial choice that has people horrified. She wore the very same cream Alexander McQueen coat she donned for Prince George's 2013 christening to the Queen's garden party over the weekend. *Gasp*
People are outraged. E! has reported, "Is it time for Kate Middleton to stop recycling her clothes?", the Mirror UK has labelled her "thrifty" as though it's a dirty word, and many news outlets were disgusted by her choice to reuse something from her wardrobe at such an important event.
Left: Middleton over the weekend and Right, in 2013 at Prince George's christening. Images: Getty.
And so Kate Middleton has unwittingly become the poster girl, the champion, for outfit repeating. Whether she likes it or not. I, for one, am cheering her on.
Each time she recycles, she's taking a stand for all of us.
There was the monochrome Tory Burch dress she wore first during her 2014 visit to New Zealand before whacking it on again for an event in London in October last year.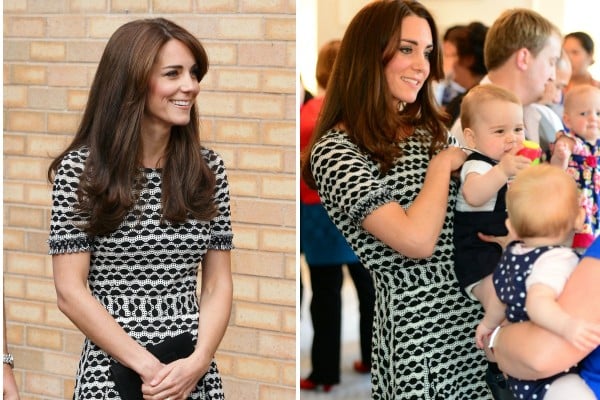 Left in  2015 and right in New Zealand in 2014. Image: Getty
Then there was the delicate blush DAY Birger et Mikkelsen coat dress she sported three times (the nerve) at Laura Parker-Bowles' wedding in 2006, Zara Phillip's nuptials in 2011 and the London Paralympic Games opening in 2012.