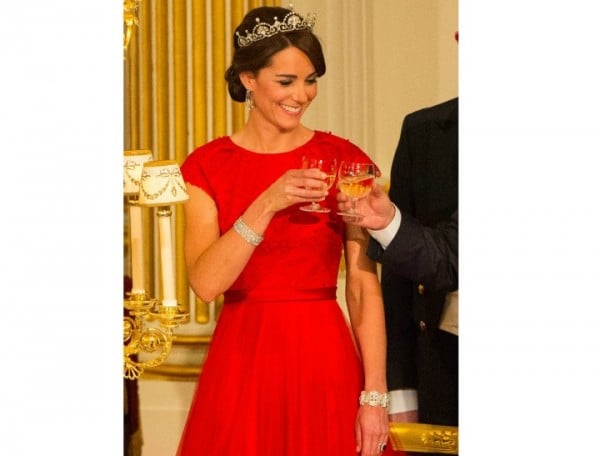 The Duchess of Cambridge, Princess Kate Middleton has donned a tiara for only the third time while attending her first ever State Banquet.
The banquet was held at Buckingham Palace and hosted guest of honour, Chinese President Xi Jinping. While we're sure all of the formal affairs were in order, what we're most interested in is what Kate Middleton was wearing, including which tiara she chose.
The Duchess of Cambridge looked exquisite of course and chose to wear one of Princess Margeret's favourite crown jewels – the Lotus Flower tiara.
Swoon…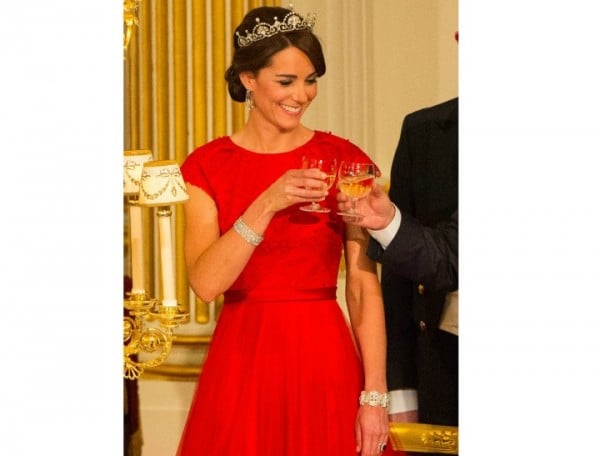 The Duchess of Cambridge, Prince William and Queen Elizabeth hosted the banquet. The Queen, 89 led the entrance with Chinese President Xi Jinpin and Prince Phillip, 94 entered with Jinping's wife, Madame Pang Liyuan.
The Duchess was seated bwteen Xi JinPing and His Excellency Wang Huning. She looked composed, stunning, elegant, gracious and complete royal perfection.
Here she is. (Post continues after the gallery)...
GALLERY: The Duchess of Cambridge at the State Dinner.