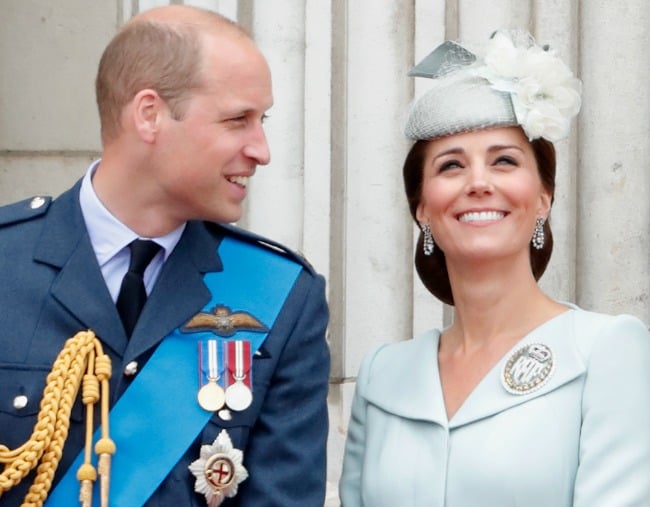 1. The adorable, highly-relatable moment Prince William and Kate Middleton shared inside Westminster Abbey.

The Duke and Duchess of Cambridge go to a lot of boring events. Sure, it's their job and they probably eat off golden plates and out of diamond encrusted glasses, but still…
It'd get pretty tedious going to one ceremony to the next, always having to dress up in fancy clothes and listen dutifully.
It's for this reason people are finding a candid moment captured of Prince William at the 100th anniversary of the Royal Air Force ceremony so bloody relatable.
Taken at Westminster Abbey this week, the video footage shows the future King sitting with a smirk on his face next to Kate, the future Queen, while everyone else is listening to a very, very interesting speech.
Then comes the part that feels familiar when Kate, who – for the record – is meant to be on maternity leave, catches him out.
While we'll never know why Wills was smirking and what he told his wife (that is, until the lip readers get a hold of it), he looked at his watch which could either mean:
A) "Remember when we became husband and wife at this exact moment in this exact church?"
B) This was meant to be over 15 minutes ago.
2. Errr… an unearthed 2003 interview with Ben Affleck eerily shows him predicting the future.

So we have two – no, three – options here: Ben Affleck is a psychic, Ben Affleck is a time-traveller, or Ben Affleck is way more into economics and technology than we ever knew.
And damn it, we want to live in a world where it's the first.
What's the basis for these wild theories, you ask. Well, a 2003 video has re-emerged showing the 45-year-old accurately predicting the invention and popularity of Spotify, Netflix and Stan.