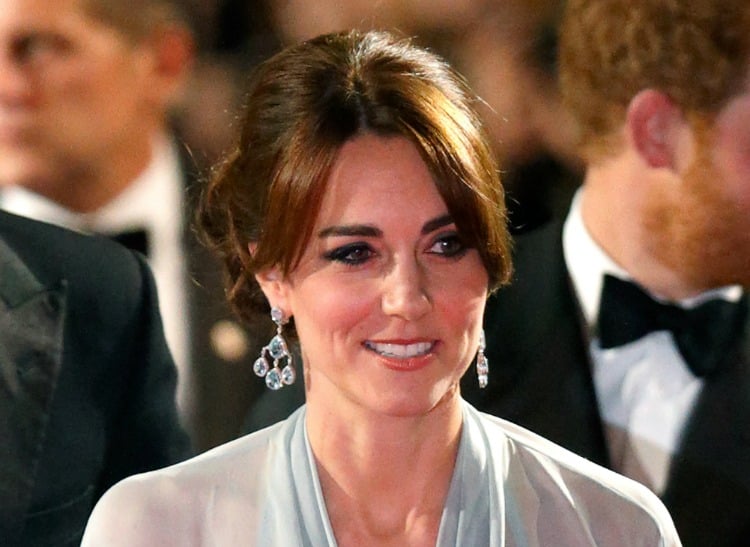 It's fair to say I have never spent so much time looking at the royal boobs as I have today. The boobs in question belong to Kate (aka the Duchess of Cambridge, wife of William, mother to heirs), and they are the subject of intense observation worldwide because it seems they have taken themselves out UNTRUSSED!
The occasion: the premiere of the latest Bond film, Spectre, in London. Kate and William walked the red carpet with the film's stars, Kate looking nothing short of gorgeous in a pale blue bespoke design by Jenny Packham with sheer, long sleeves and heavily-jeweled waist. Very, very elegant from the front. Positively saucy (by royal standards) at the back.  Because at the back, the dress is both see-through and split, revealing a hint of bare back.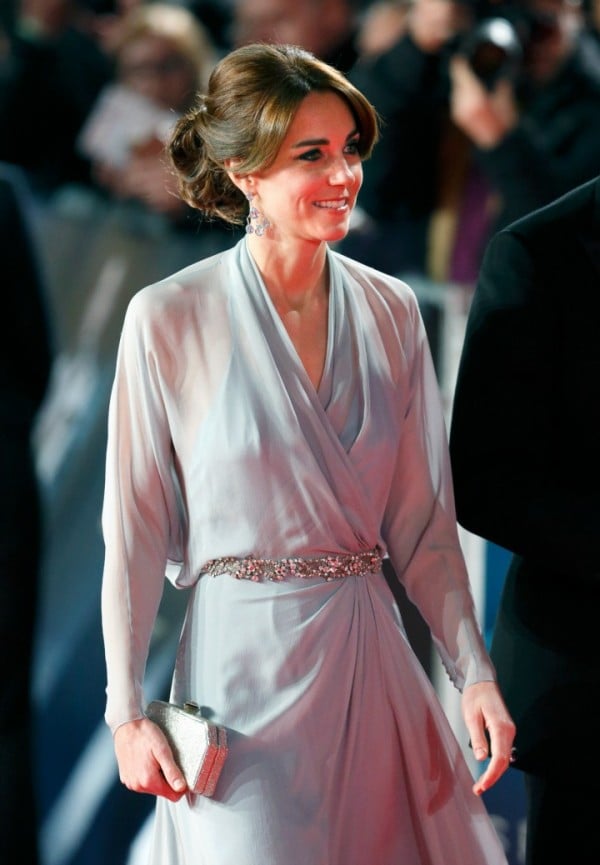 There's **GASP** not a bra strap in sight. Kate has apparently stepped out with the royal puppies off-leash.
For any other 33 year old woman, this would hardly be the stuff of headlines. But Kate isn't any other woman.
Her clothing choices are considered and scrutinised for every nuance (Kate wore lucky red to meet the Chinese president Xi Jinping, a maple leaf hat in Canada). With this dress, there's no side boob or cleavage or visible nipple covers. If she used Hollywood tape, she had an expert showing her how.
But there was also no chance on this earth her apparent bralessness would go unnoticed.
So what's going on here?
Kate's braless moment has come just weeks after she opted for a fringe, the first real change in her hairstyle in all her years in the public eye.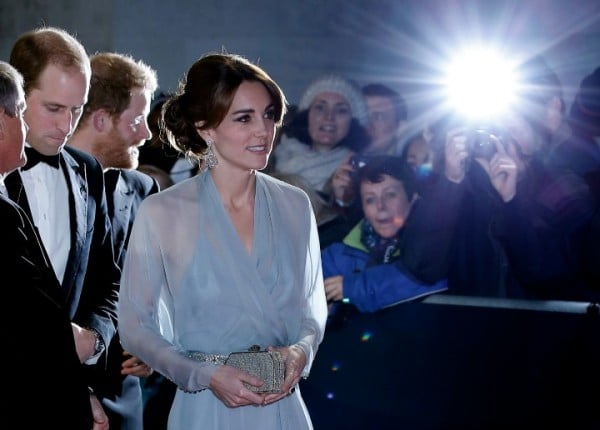 Could it be that Kate is having an oh-so-subtle rebellion?
And if she is, who could blame her?
Kate is the epitome of the good girl. She laughs and teases her slightly stitched-up Prince for the camera. She's never looks bored, she's a good sport and she manages to make it look like she enjoys the duties she's expected to perform as a senior royal.
But she's also 33, unable to step out in public without being swamped by a wave of paparazzi, and the custodian of both a personal image and a centuries-long tradition that can make or break her in the court of public opinion.
She's shown before that she has a bit of sass.
When she and William split in 2007 - to the delight of narks who'd dubbed her 'Waity Katey' because they'd been together so long without a proposal in sight - what did she do? She took a leaf from Diana's book. In 1994, when Charles was confessing his affair with Camilla Parker Bowles on TV, Diana stepped out smiling in one of the most daring dresses seen on a royal - short, off the shoulder. It was a guarantee she'd make the headlines then next day, and accurately interpreted as an 'up yours' to her husband.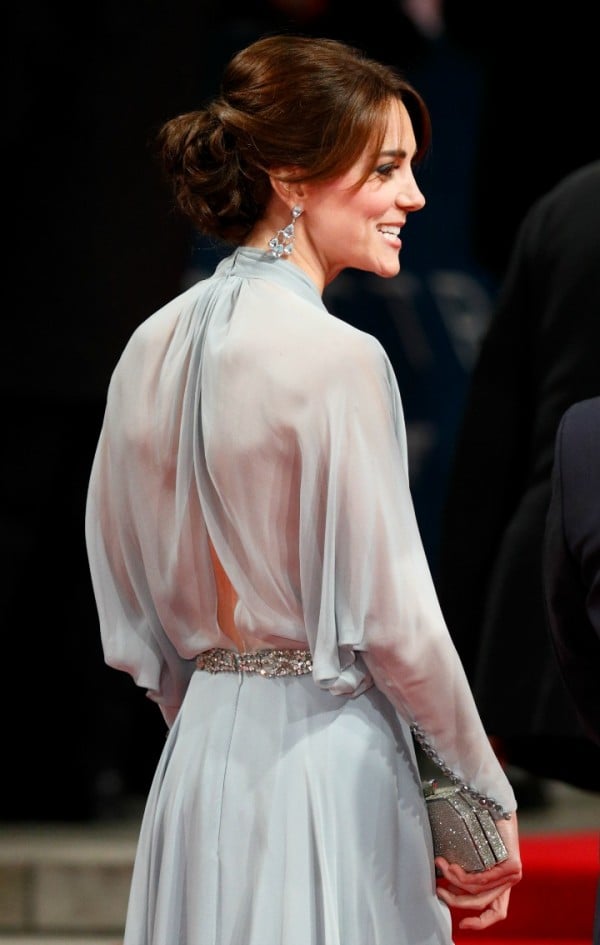 And Kate? Well, after William dumped her (reportedly by phone) Kate hit the town in a mini skirt and boots, clubbing with friends at London's most fashionable haunts.
When topless shots of the Duchess, taken by a paparazzo with a lens the length of a footy field, when the couple were in France in 2012, she didn't blink. Instead, she said she was furious and 'hugely saddened' by the invasion of privacy, and - with public opinion firmly on her side - moved on.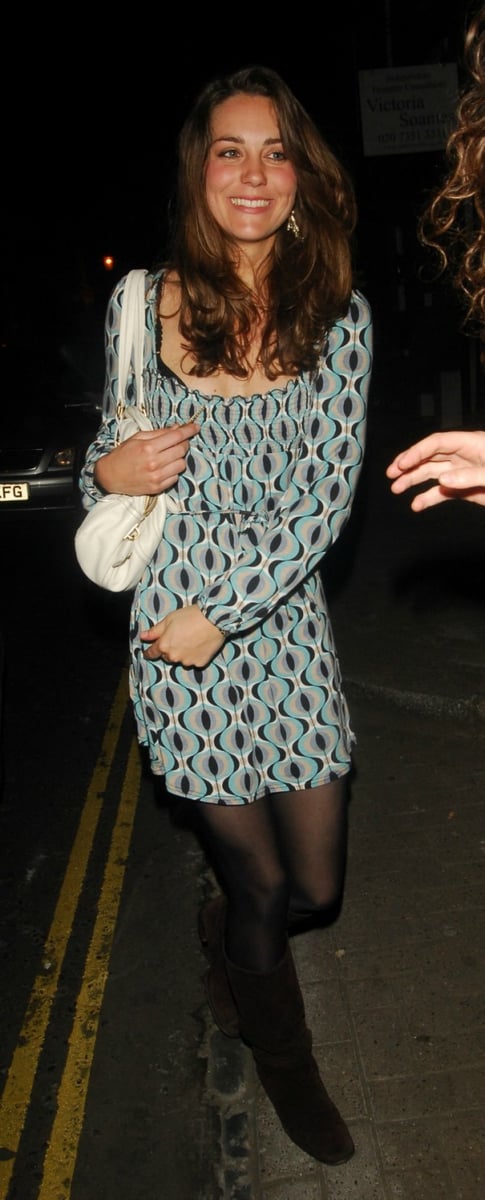 So if this is Kate rebelling, good on her. It's easy to forget that away from the apparent glamour, she's a mum with two kids who would probably, occasionally, like a say in how the world sees her. If these small things are her way of reminding us that she is a real person after all, then more power to her.
There aren't many who could live her life with such good grace and humour.
Want to see the full Spectre trailer? Watch below.