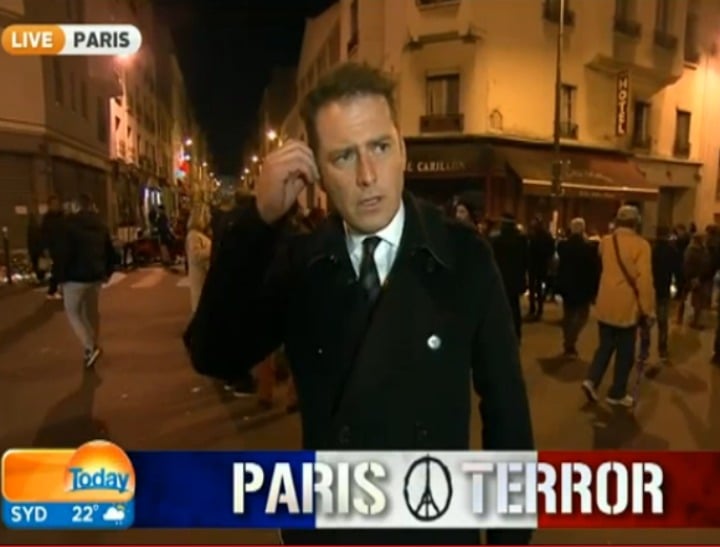 Paris on knife edge as police hunt an attacker on the run.
As Sunday night in Paris gets underway nerves are on edge as police release details of one of the men responsible for Friday night's terror attacks – who they say is still on the run.
Overnight an international arrest warrant has been released for one of the men thought to have been involved in the Paris attacks who escaped on Friday night.
French police have released a photo of the suspect they are hunting.
The man is thought to be one of three brothers involved in the killings in central Paris.
Caught up in the frayed nerves and tension in Paris, as the city tries to reclaim its way of life, is the Today Show's Karl Stefanovic who just minutes before going to air with this morning's Today Show had a terrifying brush with fear. Minutes before he was due to appear live on air a mass panic saw police clear the streets after what is reported to be an incident in the Place de la République in the centre of Paris.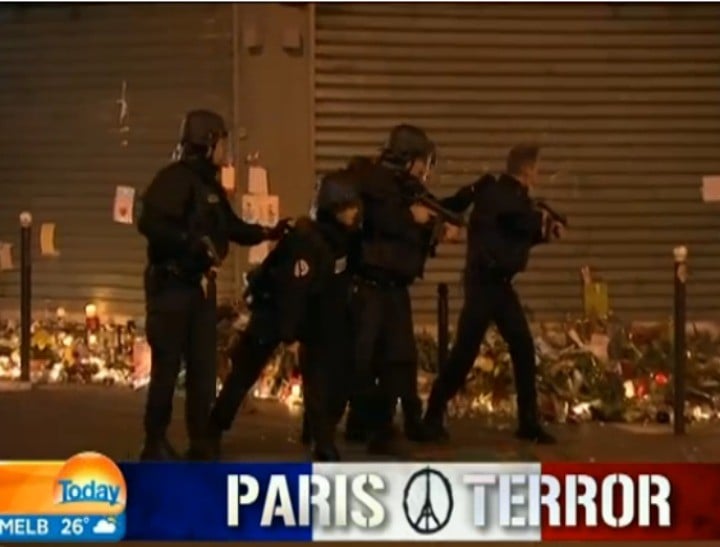 Twitter reports at the time claimed a loud bang was heard in the area, and footage showed hundreds of people fleeing the square in panic.
Karl Stefanovic, who is live on the streets of Paris, from outside Le Carillon bar, said there was a "flush of widespread panic" as police responded. He was in an area away from the Place de la République but was asked to leave his post.
"It was real panic you could see the terror in everyone's eyes" he told Lisa Wilkinson, back in Australia.
He said the police were incredibly efficient, but after about 10 minutes allowed everyone back in.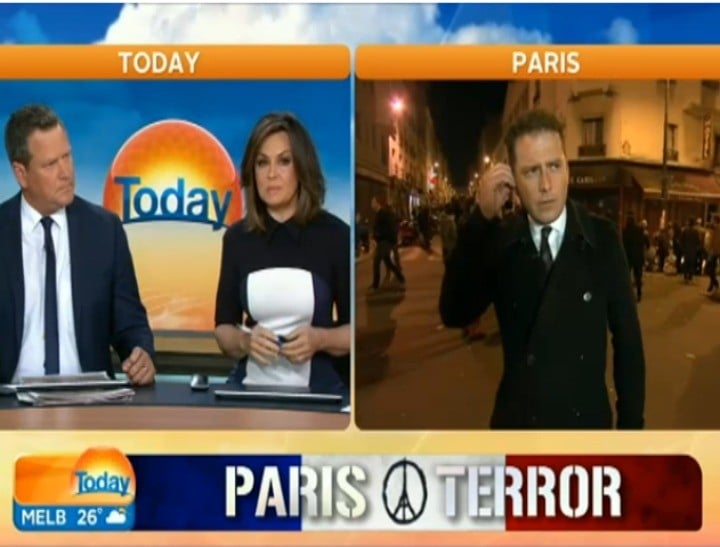 Around Paris similar scenes were taking place with hundreds screaming and running in fear as rumours swirled that another attack was taking place.
"It would appear as though it was a false alarm though we are not sure at this point." Karl told the team back in Australia.
Karl said that past 24 hours had been a "pretty good day for Paris people had started to reclaim their streets and then this happened. It's indicative of where Paris is, they know there are more offenders out on the streets."
He said the city was on edge.
Vision from the scene shows mass panic as thousands of people trying to pay their respects at the Place de la République rushed from the area in fear of what they believed may be occurring.
While Police have now given the all clear for the area many other well known tourist sights in Paris such as the Eiffel Tower and the Louvre are still closed.
Karl Stefanovic said that the situation was fluid in Paris as police hunted one of the attackers who was known to still be on the run.
123 people were killed in Friday night's attacks, more than 100 people are still critical.
Other reports:

These are the faces of the Paris attacks victims.
"It was just a Friday night at a rock show, then they started shooting."

Man plays 'Imagine' outside Bataclan theatre in moving Paris tribute.