Karl Stefanovic has had his fair share of totally bogus stories written about him in recent years.
And the one that appeared in this week's issue of New Idea is no different, the Today Show host insists.
The story about the 43-year-old "seeking comfort" from fiancée Jasmine Yarbrough after learning he'd missed on a Logies nomination was accompanied by photos of Karl looking distraught. Except that's not what happened, at all.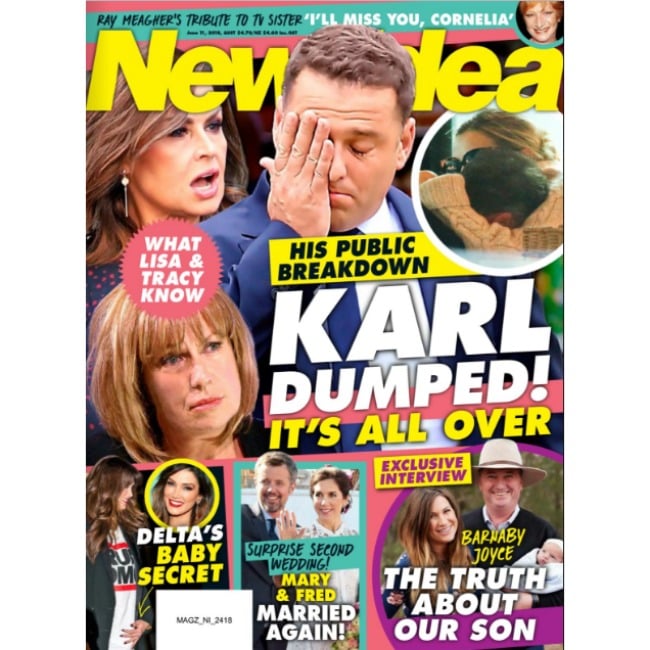 On Kyle and Jackie O's breakfast radio show on Thursday, he explained the real story behind the photos.
"That was funny," he told the KIIS FM hosts.
"Someone sent me this New Idea thing and it's got me, I'm just absolutely shattered. And so they got a shot of me in Jas's 'embrace' and she's consoling me because I'd just found out about the Logies nominations."
"What had actually happened was we were getting our car washed at Mosman... [Jasmine] said I've got to 'shred for the wed' lose a few kilos. I said to her, 'babe, can I have a muffin?' and she said 'you're not having any muffins, shred for the wed, babe'."
And, as a "joke" he played as if he was over-the-top upset about not having a muffin and went in for a hug.
So what does Karl really think about missing out on a shot at a Gold Logie?
"I haven't been nominated for ten years. Who cares?" he said. (Although actually he was nominated for Popular Presenter in 2015.)
And while Karl took that encounter with paparazzi well, he's not always so tolerant of their presence - especially when his children, Jackson, River and Ava, are with him.
"When I've got my kids over on the weekend with Jasmine, there's paps around us. And that's horrifying," he told Kyle Sandilands and Jackie 'O' Henderson.
"Now the kids know where they are and it's just disgusting.
"And places and publications like Woman's Day, New Idea and the Daily Mail are disgraceful. There's a market for it so obviously, these guys get out there and do it."
The wedding is happening later this year, says Karl

Another preferred tabloid storyline has been Karl Stefanovic's relationship with his fashion designer fiancé, Jasmine Yarbrough.
A favourite rumour is that their wedding is off - or that the commitment ceremony they held in March happened because Karl's still not divorced from his ex-wife Cassandra Thorburn. (Both untrue.)
On the Kyle and Jackie O show on Thursday, the Today host clarified that the couple will indeed get married later this year, explaining exactly why they decided to exchange non-legally binding vows in front of family and friends earlier this year.
"We just had a really nice ceremony because all of our family was there... a commitment ceremony to each other. But not everyone's going to be able to make it to our wedding, which will be later in the year."
The 44-year-old didn't say whether the pair had set a date, but did admit they were yet to decide on a venue for their nuptials.
Karl also clarified that reports Jasmine's engagement ring cost $120,000 were "bullshit" and while he wouldn't confirm a dollar mount did say it was less than that.
The father-of-three said he tried to stay away from the social media chatter about him, but that the comments section of the Daily Mail was where his family saw the most troubling comments.
"I don't personally [read the comments] but my family does.
"Jasmine is new to this and it's horrible. It's the most hideous disgusting form of abuse because it's hidden and it's cowardly.
"I'm used to it. I'm okay, but for people around me it's really difficult."