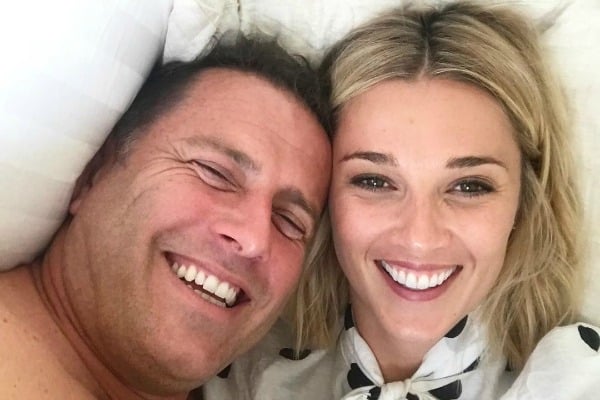 After getting married in a lavish three-day wedding extravaganza in Mexico last December, Karl Stefanovic and Jasmine Yarbough have been subject to countless rumours about their future baby plans.
From claims that former (and future) Today show host Stefanovic had undergone a "second vasectomy reversal surgery" to rumours that the couple have been trying for a baby, the tabloid stories have been endless.
But now it seems there may actually be some truth behind the rumours. (In fact, we'll be pretty surprised if these rumours aren't actually true.)
Watch Karl Stefanovic say goodbye to the Today Show. Post continues below.
Speaking on Perth radio show 6PR Breakfast with Millsy & Baz on Monday morning, entertainment reporter Peter Ford "confirmed" that the couple are expecting their first child together.
"We've got confirmation that Karl Stefanovic is becoming a dad, Jasmine is pregnant," Ford claimed.
"They've had the baby shower on the weekend, which is kind of a giveaway sign," he added.
"[Karl's] about to make his big comeback, and now all the excitement of a new baby on the way. Good luck to them."
Speaking to The Daily Telegraph on Monday, a "friend" of the couple also reportedly confirmed the news.
"Jas and Karl are over the moon. They are very happy," the source claimed.
The publication also reported that Stefanovic has shared the news with his three children – Jackson, 19, Ava, 13, and River, 12 – and his ex-wife, Cassandra Thorburn.
The couple, who celebrated their first wedding anniversary over the weekend, haven't yet confirmed or announced the news.
Over the weekend, however, photos were shared of Yarbrough cradling her stomach at an event in New York City that her friend had described as a 'baby shower'.