Choosing a dress with a plunging neckline is always going to be a risk. Beau Ryan's wife Kara came dangerously close to demonstrating why at last night's Logie Awards.
The hairdresser and makeup artist had an awkward moment just seconds before walking onto the red carpet, when her low-cut Mariam Seddiq gown slid sideways, revealing a tad more than the designer intended.
Thankfully, only her Footy Show host husband witnessed the event, so she managed to avoid major embarrassment. Until he decided to tell the entire country about it on morning television.
Beau was playing a game of 'Never have I ever' with Today hosts Richard Wilkins and Sonja Kruger this morning, when they asked if he'd ever had a Logies wardrobe malfunction.
"My wife has, last night," said Ryan. "We got in the lift and we were coming down to get on the red carpet and one of her nipples was out."
Beau also made a few other Logies-related confessions during the segment, including forgetting other celeb's names and that he was once mistaken for singer and X Factor alumni Johnny Ruffo.
"I went along with it and signed the autograph and got the photo," he said.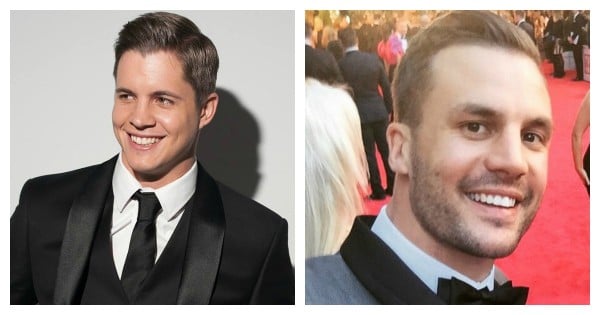 Johhny Ruffo. Beau Ryan. Simple mistake. via Instagram.
It was a lucky night for Beau, who took home a the Best Sports Program award with his fellow Footy Show crew.