A mum from the UK has stumbled upon a children's book which would make even the most sexually adventurous adult blush a little.
Katherine Peck, a mum-of-two from London, was at her local GP's office when her son picked up a book called Mummy Laid an Egg.
The booked starts off OK, I guess, by explaining that "Girl babies are made from sugar and spice and all things nice" and that sometimes you find them under stones (not in my experience, but OK).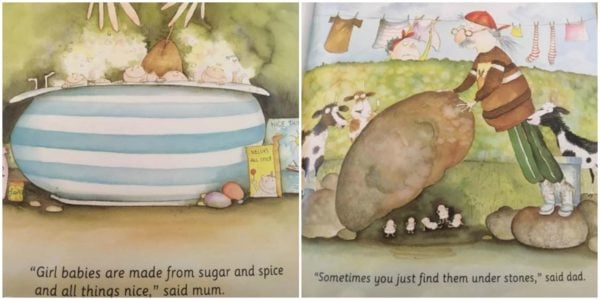 But then things take a turn for the more bizarre on page six, when the narrator starts talking about Daddy's friendly seed pods which live outside his body. Apparently Daddy also has a tube which the seed pods come out of, when Daddy puts the tube in Mummy's tummy through a little hole.
OK, that's probably fine. It's a cutesy way of explaining sex to kids and even I learnt a few things.
BUT THEN THIS HAPPENS.