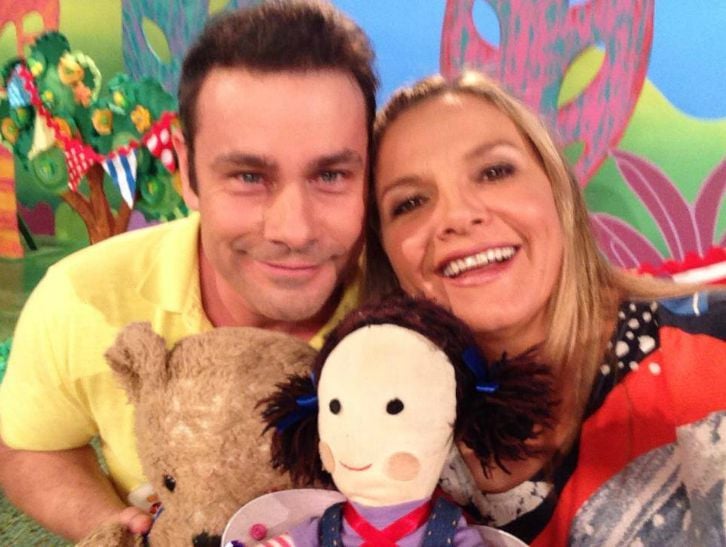 She's the Play School presenter loved by a generation of kids and parents. She's sung to our children, read to them, and taught them to make things out of egg cartons. Even at home, with husband Jack Finsterer and their three kids, Justine is the "fun" parent.
"My husband is the routine-based disciplinarian," she explains. "He's the rock."
Justine loves playing with her kids. But she admits the amount of time she spends doing craft has "dropped off" with her youngest child, five-year-old Max.
"I think it's the mess involved with craft that I just can't face like I used to be able to," she laughs. "And I think I've realised now I've got to enjoy it as well! Not enough craft for the third one, I have to say, but lots of reading."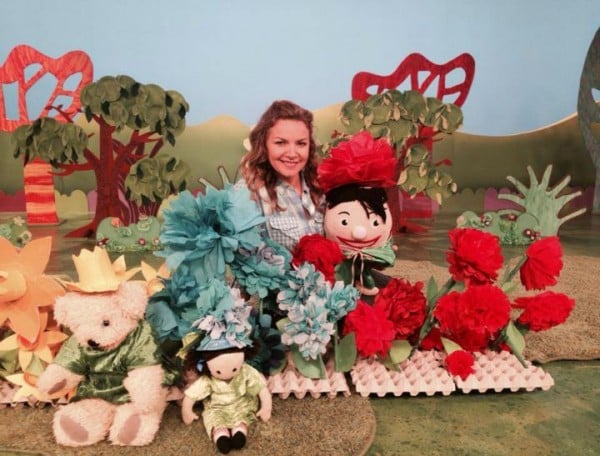 Justine and Jack, who is an actor, met while doing a play for the Sydney Theatre Company. Ever since the birth of their first child, they've been "juggling" their work commitments around each other. While Jack has appeared in shows like Life Support, Neighbours and Miss Fisher's Murder Mysteries, Justine has been in Tangle, The Time Of Our Lives and, most recently, House Husbands. As well as that, she's had Play School and her music career.
"We've both been very conscious of trying to make sure that we can keep working but one person is always at home," she explains.
Justine says Jack has always been "enormously supportive" of her continuing to work.
"He was desperate to be there and be feeding the baby and changing the baby's nappy. Back then, too, there weren't a lot of dads who were out with a pram."
But like a lot of mums, she still struggles with the work/life balance.
"I think I've figured out now, you just have to appreciate when the balance is right and you have to acknowledge when it's working," she believes. "Otherwise you're always stuck in that place of feeling like your whole life is just a big juggle."
Here's a video of one of Justine's songs. Post continues after the video.
Justine says having children – her older two are Josef, 14, and Nina, 12 – made her a lot more focused on her work, because she knew she had to provide for a family.
"And then all the ways that everybody says it changes you: it makes you more compassionate, it opens up your world, it deepens your level of empathy for most things."
As yet, none of the three children are showing any "burning desire" to follow in their parents' footsteps and become performers.
"They have music lessons and my daughter always loves her drama class at school, but at this stage, that's as far as it's gone. Apart from appearing in all of my DVDs, which they didn't have that much of a choice in!"
Justine also tries out all her songs on her kids – including the ones from her new album, Pyjama Jam! – even though Josef and Nina are well out of the target age range.
"Because they've grown up with the music, I still do like to play it to them, just to see what they think. But I definitely test stuff out on my five-year-old."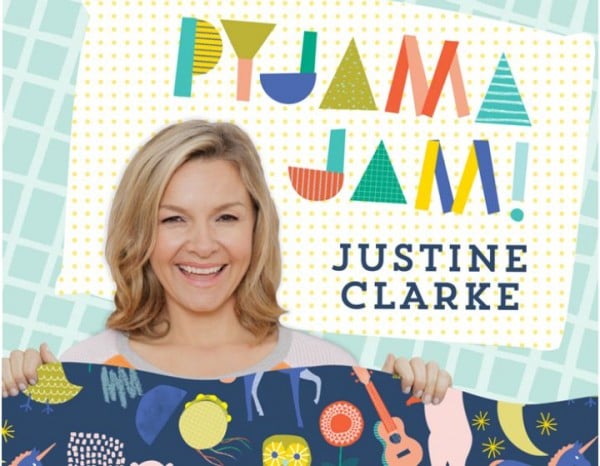 Justine's own acting career began when she was just seven. By the age of 12, she was appearing alongside Mel Gibson in Mad Max Beyond Thunderdome. She says it was an "interesting" childhood, and she learnt a lot.
"Some things I learnt maybe too early!" she adds. "I loved doing what I did but I wouldn't seek it out for my children. I think a little bit of it is probably okay, but I'd probably want my kids to go to school, which I didn't do that much of."
The advice she has for her children at this point in their lives is simple.
"'Be kind and have fun.' That's what I say to them."
Catch Justine Clarke's national Pyjama Jam! Tour in metro cities in Oct/Nov - a live and intimate show where children are encouraged to wear their PJ's and bring their favourite cuddly toy. Tix on sale now. For ticket and tour info visit www.justineclarke.com.au/tours

Pyjama Jam! Album is released Oct 2 through ABC Music and Universal Music.  Pre-orders through ABC Shops.

Pyjama Jam! Tour 2015

SYDNEY Monkey Baa Theatre Company: 14, 15, 16, 17 October

PERTH Octagon Theatre: 7 November

MELBOURNE Arts Centre, Playhouse: 15 November

BRISBANE QUT Gardens Theatre: 20 November

ADELAIDE Her Majesty's Theatre: 21 November
Do your kids love Justine's music?