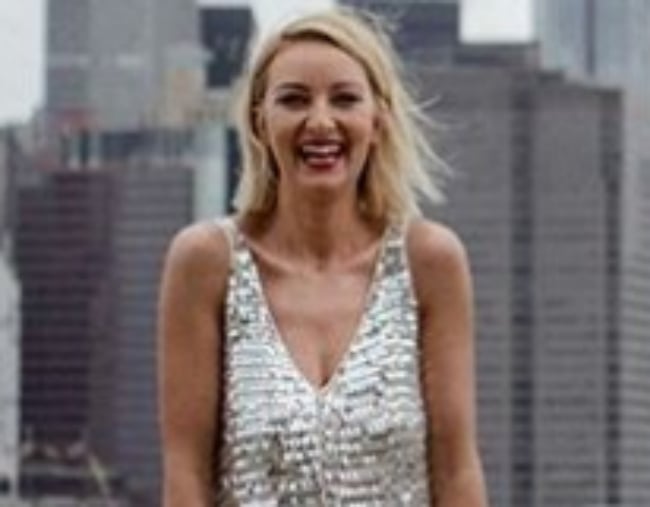 For many women, finding a dream wedding dress can be incredibly stressful. Will it be too formal? Will it be formal enough?
Stacey June, however, one half of the Thinkergirls podcast, has found the perfect wedding outfit… but it's not a dress at all.
AND IT'S PERFECT.
She announced on Sunday that she and her partner Ben Jenkins eloped in New York City earlier this month. And to celebrate tying the knot, Stacey wore a silver, glittery mid-calf jumpsuit,
It's sparkly. It's breezy. It's effortlessly fun and classy at the same time.
Stacey's newlywed husband also bent the rules of what a wedding outfit "should" be, wearing a pair of loafers with his ankles bare, in a chequered suit without a tie.
She paired the stunning jumpsuit with a pair of pastel purple pumps, which matched her beautifully simple bouquet.
In the first photo from their marriage, commenters went crazy over the outfit, thinking it was a dress from the side.
"OH GOD! The photo, the dress, the shoes, the love, the intimacy!" wrote one user.
Learn how to choose the perfect bridal party in the Hitched podcast. Listen below. 
Want to hear to more? Subscribe to Hitched here.
In the second photo, her followers saw the outfit for what is was, and goodness were they happy about it.
"OMG your jumpsuit. Next level. Stunning you are," wrote one user.
"This jumpsuit is perfect! You two are amazing," wrote another.
Stacey has shared on her Instagram story that details of the wedding will drop later today on her podcast, so stay tuned.
On Instagram, she wrote a sweet message to her husband: "Ben, you are so much more than I imagined and our treasure is one that I will hold sacred for life."