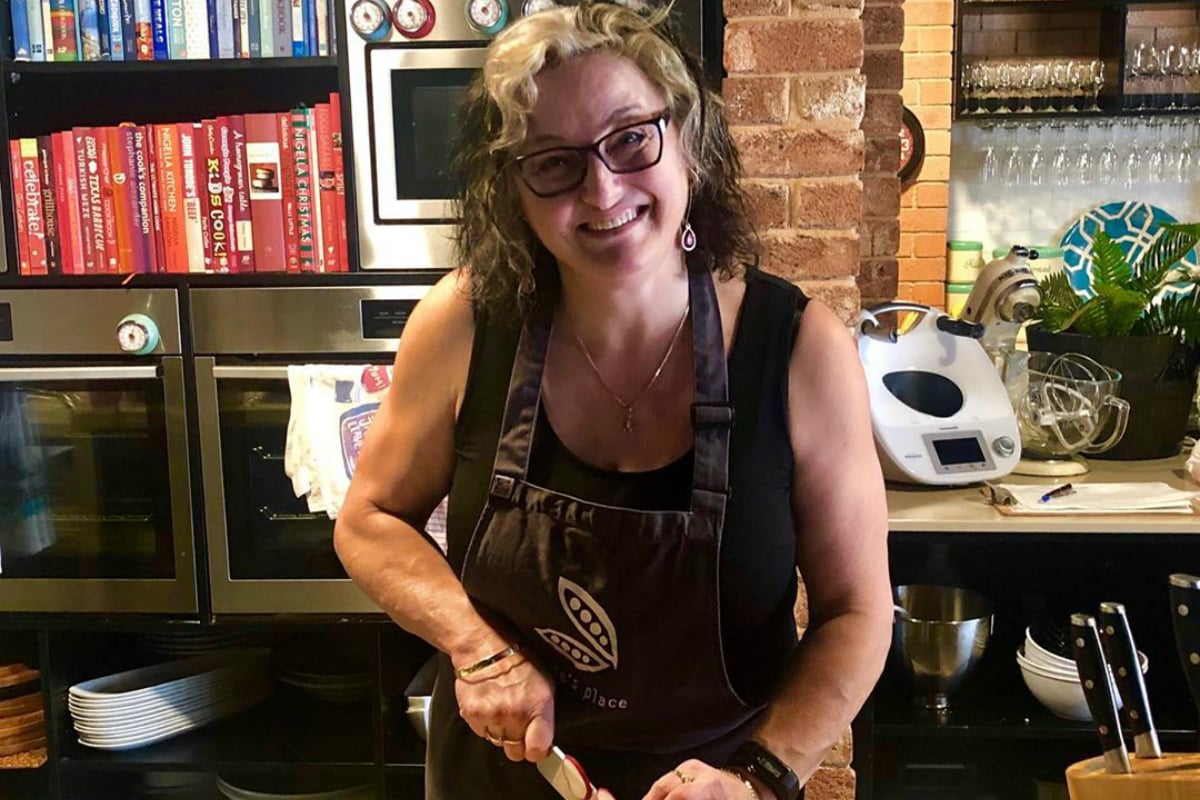 This post deals with depression and anxiety. If you are struggling with your mental health, support is available via Lifeline. Please call 13 11 14.
Julie Goodwin, the season one winner of Masterchef Australia, has opened up about her struggle with mental health in an interview with The Sunday Project.
The interview comes after the chef told fans in February that she had spent five weeks in a mental health facility while struggling with anxiety and depression.
"On the surface I know I don't seem to be depressed or anxious. I've denied it to myself for a long time, and certainly put a lot of energy into making sure it wasn't obvious to the people around me," the 49-year-old wrote in a Facebook post.
Watch: Julie Goodwin talks about work life and motherhood. Post continues below.
The mother-of-three described the feeling as being "trapped under a wet woollen blanket and every move was a massive effort".
"Eventually all of this became so much that I just had nothing left," she said.
Over the past few years, Goodwin has been operating her own business, Julie's Place Cooking School, while also starring on the Central Coast radio show, Rabbit and Julie Goodwin, with co-host, Dave 'Rabbit' Rabbetts.
After four years on the program, Goodwin announced her resignation in December 2019, citing she needed to focus on family and her wellbeing.
In February, while still in hospital, she announced that her battle with mental health escalated during the Christmas period last year.

On Sunday night, Goodwin sits down with journalist Lisa Wilkinson as she reflects on her private pain.
"It wasn't just a feeling, it became physical. My hands shook so hard that I couldn't put a fork full of food to my mouth, and it was really quite frightening," Goodwin says. "I wasn't sleeping."
The Aussie chef says it was her husband of 25 years, Mick, who recognised her "crisis" and made the decision to take her to the emergency room, where she was eventually taken to a mental health unit.
"I'm very grateful to my husband Mick for making that decision," Goodwin tells The Project. "He just said to me, 'I'm not equipped to deal with what you're going through right now, and I need some help with this'.
"If I hadn't been taken there, I don't know where I'd be now," she admitted.
"What I know from like the very centre of my soul is that he is looking out for me and that his motivation is my wellbeing," she said of her husband of 25 years.