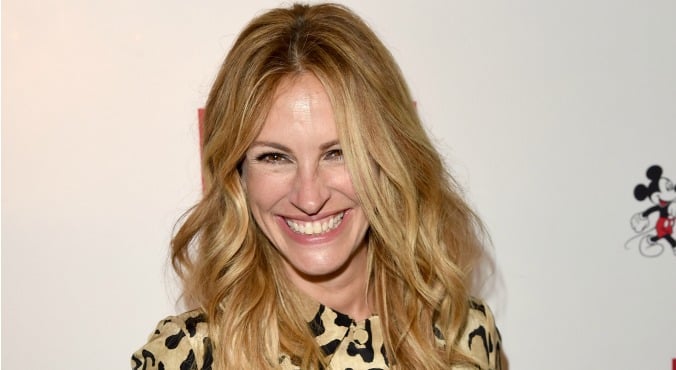 Image: Julia Roberts at an event last week (Getty)
You don't need to be a 'Hollywood insider' to know cosmetic procedures are commonplace in Celebrity Land – particularly among women.
Although they won't always acknowledge it, countless stars enhance their natural good looks with procedures ranging from Botox to breast augmentations. In a profession where looking young and radiant is – unfortunately – paramount to winning decent female roles, it's hardly surprising.
Does 'preventative Botox' really work?
Yet Julia Roberts – the Oscar winner who rose to fame as the titular character of Pretty Woman – has claimed she's resisted the pressure to go under the knife or under the needle.
"By Hollywood standards, I guess I've already taken a big risk in not having had a facelift," the 46-year-old tells You Magazine. The August: Osage County star is currently the face of beauty heavyweight Lancome, and says she's told the brand she wants to be an 'ageing model'.
"They have to keep me for at least five more years until I'm over 50."
These are some of the celebrities who have had Botox and spoken about the experience.
Celebrities on what it's like to use Botox
What's the deal with Kylie Jenner's lips?
This isn't the first time Roberts – who herself has been at the centre of plastic surgery speculation – has spoken about cosmetic surgery in the acting business.
"It's unfortunate that we live in such a panicked, dysmorphic society where women don't even give themselves a chance to see what they'll look like as older persons," she said in a 2010 interview with Elle magazine.
"I want to have some idea of what I'll look like before I start cleaning the slates. I want my kids to know when I'm pissed, when I'm happy, and when I'm confounded. Your face tells a story . . . and it shouldn't be a story about your drive to the doctor's office."
A few reasons why Renee Zellweger's face looks so different
Roberts' new comments come just days after photos of Renee Zellweger at a red carpet event prompted feverish scrutiny of her "new face", which seemed to sum up how the public reacts to women in the spotlight: they're damned if they do 'maintain' their youth and looks, and they're damned if they don't.
What do you make of Julia Roberts' comments?