As the 89th Academy Awards drew to a close, we were gifted the biggest stuff up in Oscars history.
"La La Land," Faye Dunaway read, from what she thought was the 'Best Picture' card.
The cast and crew took to the stage and embarked on elaborate acceptance speeches. But something didn't seem right.
What would Jordan Horowitz do? Mia Freedman, Monique Bowley and Jessie Stephens discuss on this week's episode of Mamamia Out Loud. Post continues below.
And that would be because the wrong movie was accepting the award for Best Picture. In front of… literally everyone.
Fred Berger was in the midst of thanking his family when he paused and said, "We lost by the way…" and just straight up disappeared.
At this moment, one billion people watched on in disbelief.
"What the hell is going on?" we asked.
There was no contingency plan. There was no manual for what to do when you're in the middle of accepting an Oscar that is definitely, 100 per cent, not yours.
They do not prepare you for that in film school.
That's when La La Land producer Jordan Horowitz became the hero we all needed – not just at the Oscars, but in life.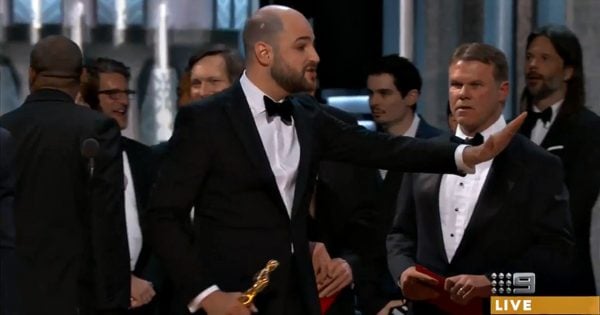 He looked towards the Moonlight team and said "'Moonlight', you guys won Best Picture."