Game of Thrones returned to our screens last night with the first episode of Season Seven.
If you were lucky enough to watch it uninterrupted, you would have seen that it was a bumper episode, featuring a solid check up of where everyone is and a cameo from a certain ginger-haired singer.
Listen to the latest episode of The Binge for all the big Game of Thrones moments you missed.

But there's something big you might have missed – and it involves a potentially huge discovery by Samwell Tarly.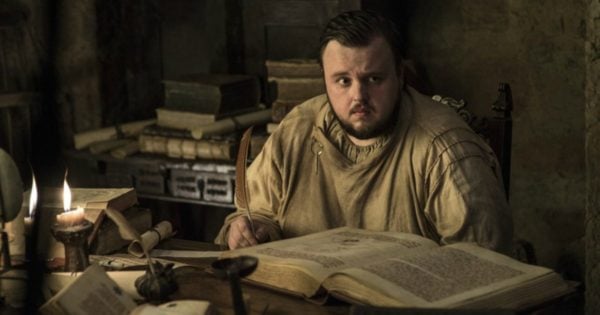 It was spotted by eagle eyed fan Beastmodekait, who posted a screenshot on Reddit of the page from the restricted book Tarly was reading about dragonglass in a bid to learn more about defeating the white walkers.
EMBED
However it could have an even more immediate impact - a cure for greyscale.
As we watched poor Sam go about his tedious and quite frankly gag-worthy tasks cleaning out bed pans of patients, we were reunited with the hand of an old favourite - Jorah Mormont, who left Queen Daenerys Targaryen in search of a cure for that very disease.