You remember the moment. Married at First Sight, Season Four. Jonathan rolls over in bed and scrolls through his phone for the camera. On it, the string of text messages he'd exchanged with Scarlett, a fellow cast member who was absolutely, most definitely not his television wife.
"We should be matched, we'd be cute as sh*t," the Brisbane entrepreneur said. "Can we swap? Is that a thing?"
Those messages marked the end of the then 29-year-old's relationship with his expert match, Cheryl. And now, thanks to screenshots snapped by Scarlett we know what they said.
Now-deleted images shared to Instagram by the NSW promo girl show dozens of back-and-forth messages they sent after exchanging phone numbers at a group dinner party. Cheryl ended up sleeping in a different room that night, and revealed she was unhappy in the on-screen marriage.
"All I can hear is her [ going between gossip and yelling in another room but I'm yet to hear her say 'I didn't compromise / I was being too faced to the camera'," Jonathan allegedly wrote. "Anyway… life… I tried."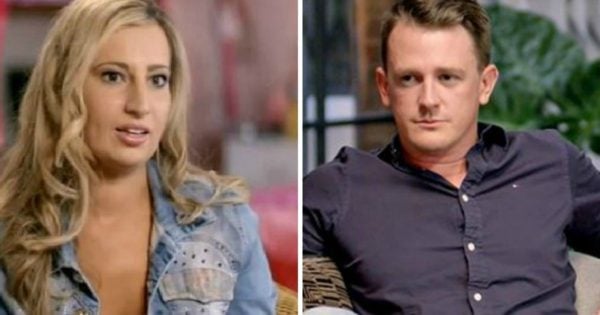 After some bonding over their mutual love of a good ol' cuppa' ("Like literally love tea." "Same!"), the messages turn back to Cheryl.