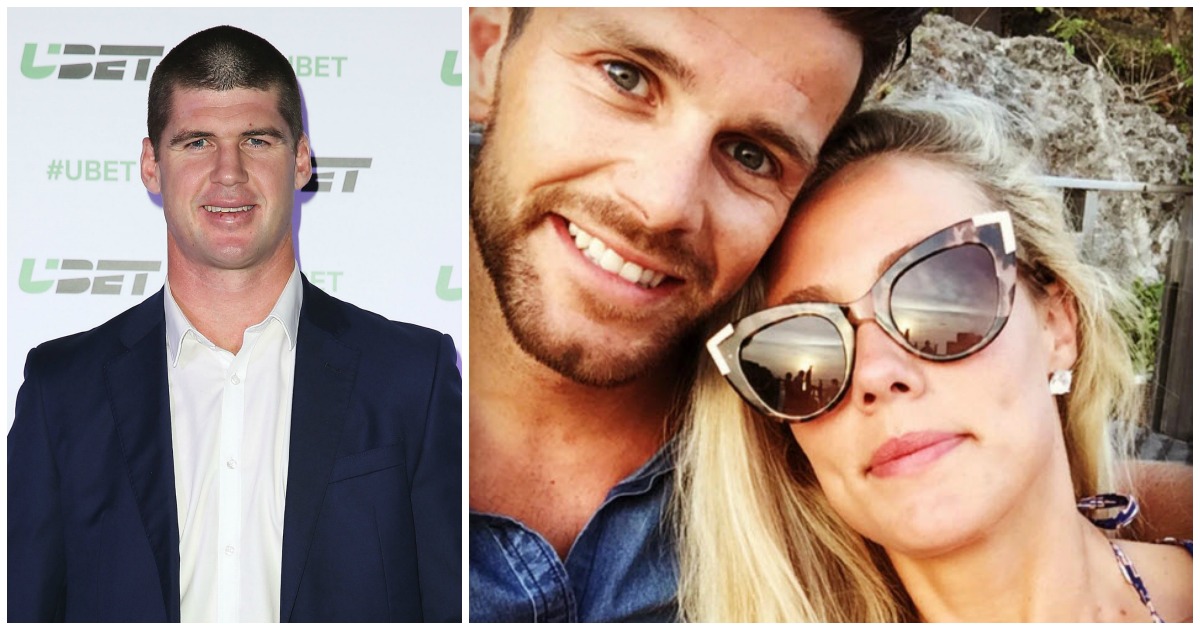 Jonathan Brown has a bone to pick with Brooke Cotchin.
The Richmond Tigers haven't had a great start to the 2016 season. After three big losses, captain Trent Cotchin has come under pressure from the media and the public.
After Richmond's 68 point shut down by the West Coast Eagles on Saturday, Cotchin's wife Brooke shared a post on Instagram expressing her support for her husband.
"Every week you go out and give your all," she captioned the image of Cotchin holding the couple's daughter, Harper Foxx. "To have to listen to the constant criticism you have had to put up with especially of late has been incredibly hard."
"Those closest to you know just how dedicated you are to your football club and team mates on and off the field. As a wise man once told me 'People's opinions are none of our business' We love you and are so proud of you. We can't wait to have you home."
It was a heartfelt message from a wife who was away from her husband (the West Coast v. Richmond match took place in Perth), and aware he might be feeling the pressure. Perhaps he was in need of a bit of love from his fans. The post was flooded with likes and comments from Richmond fans who also wanted to speak up for their club's captain. After Brooke's post gained momentum, she spoke to the Sunday Herald Sun.
"It's easy to sit there and pass judgment on what someone's doing," she said. "But the reality is the majority of those people aren't out there (on the field) and they've never been out there before."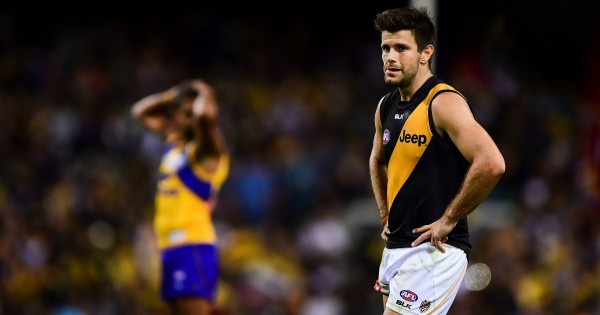 According to radio host Jonathan Brown, Brooke's message of support for her husband and others in his position was entirely inappropriate.
On Nova's Chrissie, Sam and Browny this morning, Brown, a former captain of the Brisbane Lions, said  "Cotch would have died when he walked down to the newsagency the next day to grab the Herald Sun."
Slightly melodramatic.
"Expressing your feelings, you can understand but ... it's the perception, obviously Richmond are going through a tough time, we just want to be big boys, we want to be men and it's a man game."
It can be understood from Brown's comments that he believes Cotchin would have been embarrassed that his wife 'exposed' his emotional side. While that may have been Brown's experience of dealing with criticism in his decorated career with the Lions, it is by no means the experience of all AFL players. Why the perception of Cotchin's emotional state or his desire to be perceived as a 'big boy' is any one else's business, isn't entirely clear.
"We get great support from our partners and our loved ones," Brown said, adding that partners of AFL players provide support "at home".
"They do a fantastic job the girls, but they need to stay out of it publicly," Brown said.
Brown went on to say that his wife Kylie understood discussing his career publicly was a "no go zone".
"Certainly I never had to muzzle her but she would never have spoken publicly about it," he said. Oh, good. We're so glad you never had to 'muzzle' Kylie in order to prevent her from expressing her thoughts in the public arena.

Yes, Cotchin may have been embarrassed that his wife spoke publicly about him and his emotional state. But he also may have been grateful for her message. He may have felt a much-needed confidence boost from the flood of support it received from his fans. Either way that would be entirely his prerogative.
Whether or not it was Brown's intention, suggesting that Brooke Cotchin shouldn't have spoken out is to suggest that she doesn't know what she's talking about. Yes, Brown has a wife too. He played football too. He was a captain who came under scrutiny too. He might know how he would feel in Cotchin's situation, but that doesn't mean he is in a position to comment on the way any woman expresses her support for her partner.
Or the way she supports her club.
***Featured image via Getty/Instagram: blkcotchin
We've all had a bad day at work. The MM team confess the last time they cried at work: