"We should be matched, we'd be cute as sh*t."
Jonathan, lying on his bed, rolled over and showed the camera his texting history with fellow Married at Fist Sight contestant Scarlett. The pair aren't married – they were not matched by the shows experts – but they've now opened up about their controversial friendship, which was confirmed during last night's episode.
"At the dinner party [the night before the commitment ceremony], I noticed that Jonathan was crying," Scarlett, 30, who was 'married' to Michael told TheFIX.
"And he said to me, 'I just feel so lost, and I have no one to talk to'. I was like, 'Dude, you can talk to me. I'll give you my number and you can just vent. I'm here for you'."
She said she had even joked with Jonathan's 'wife', Cheryl, about their connection, telling her: "If you don't want Jon, I'll take him."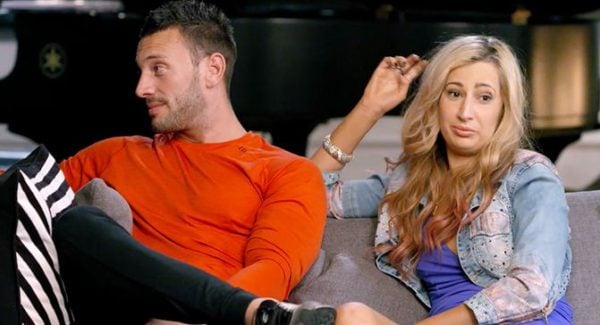 Jonathan revealed he and Scarlett have open and easy communication, which is in stark contrast with the difficult relationship he shares with Cheryl.
"I was in communication with Scarlett purely based on the fact that she could communicate better,"  Jonathan, 29, told The FIX. "We were purely talking about how bad my situation was and how bad her situation was and just general conversation."
Cheryl, 25, was not convinced the pair's friendship did not involve something more intimate.
"I heard you last night saying that you got paired with the wrong person," 25-year-old Cheryl told Jonathan during Sunday night's episode. "And then you swapped numbers and have been talking to each other. It makes me feel like sh*t. It's a dog move and I'm so betrayed by you. Both of you."
But Jonathan has said there is nothing more between the pair. Only a friendship. "We would have made a cute couple for TV, but not for real life."
READ MORE: Married At First Sight recap - The cheating scandal we've been waiting for.