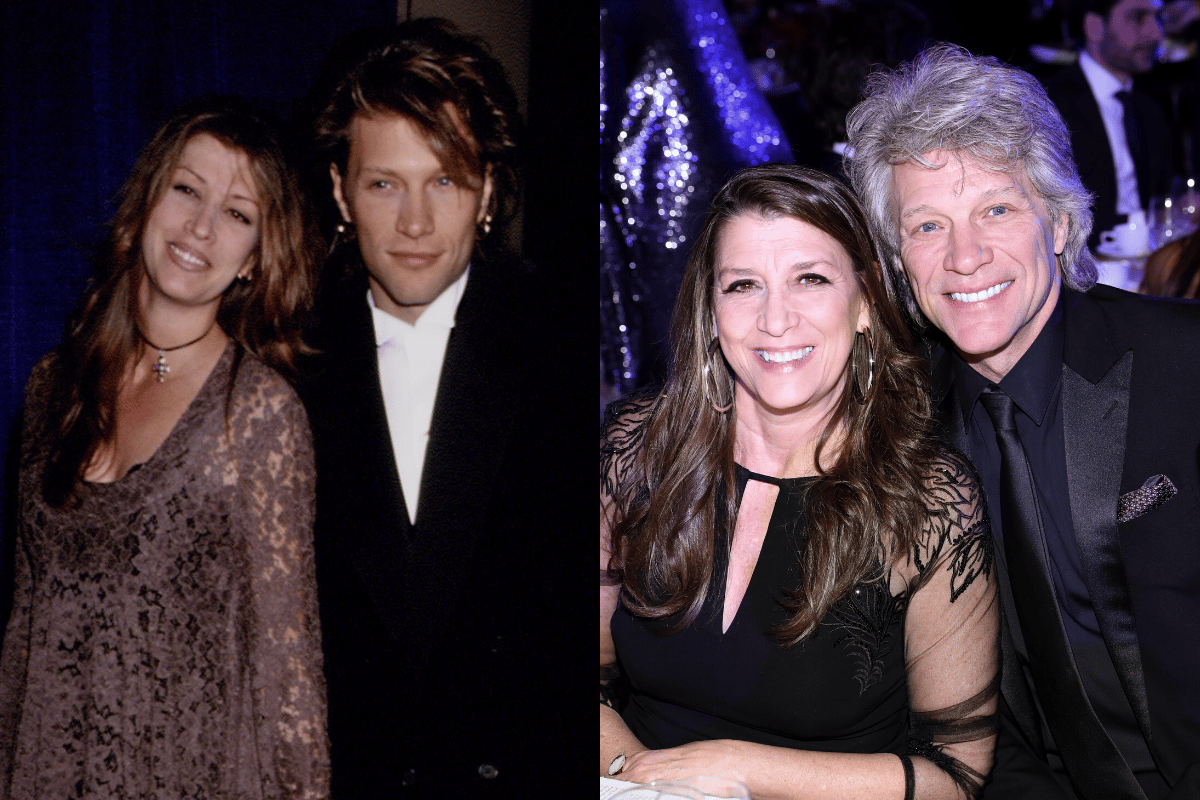 Jon Bon Jovi is a stayer. He's been a rock star for more than four decades – and he's been with his high-school sweetheart, Dorothea Hurley, for nearly as long. But there have been a few bumps along the way.  
Bon Jovi was born John Bongiovi in New Jersey to John, a barber, and Carol, a Playboy bunny turned florist. He started playing in his first band at the age of 13, and it was around then that neighbourhood women started pursuing him. 
"I was in eighth grade, very young, and the guy the MILFs came to see," Bon Jovi told Men's Health. "I was a boy toy. They'd buy you a cheeseburger and you'd go, 'Doh-kay.'"
Listen to Mamamia's daily entertainment podcast, The Spill. Post continues below. 
He says it took him "a while" to start to like it. 
"I don't know if I'd want my son to have those experiences," he adds.
In his senior year of high school in 1980, Bon Jovi fell for Dorothea Hurley, a junior karate champion, when she sat next to him in history class. Hurley was dating another guy, but when he left town after joining the military, Bon Jovi swooped in. 
By then, he was already starting to make a name for himself as a musician, even sharing the stage with Bruce Springsteen. He was also working as a janitor for his cousin Tony Bongiovi at the Power Station recording studio. The Star Wars Christmas album was being recorded there, and, at his cousin's suggestion, he ended up singing the track "R2-D2 We Wish You A Merry Christmas". 
In 1983, the band Bon Jovi was formed, and before long, they were topping the charts with hits like "You Give Love A Bad Name" and "Livin' On A Prayer". Bon Jovi himself became a pin-up boy, which he wasn't thrilled with. 
"At 26, 27, I was pissed off about it," he told The Guardian. "Because I thought: 'Goddammit! I'm working so hard! I'm trying so hard!'"
Bon Jovi had the success, but he wasn't living the typical rockstar lifestyle. He was into drugs when he was "very young" – "I mean, I was entrepreneurial even then, buying quarter pounds of dope and trying to make a couple bucks," he told Men's Health – but gave them up long before he hit the big time. 
"I've always felt I didn't have the mental stability to handle drugs," he explained.