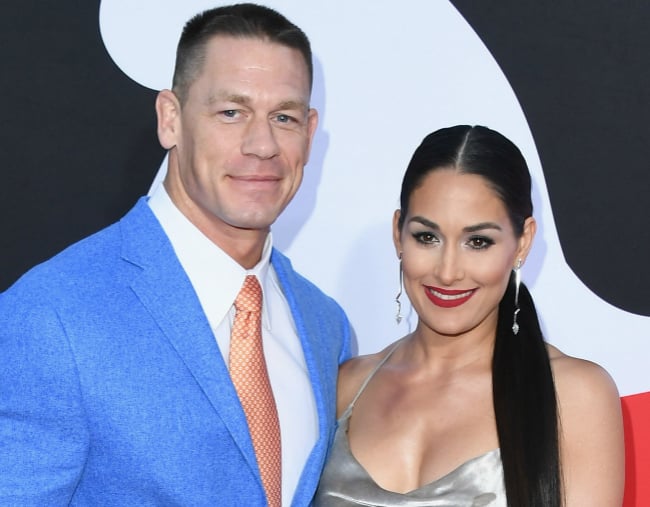 1. The sex scene that effectively ended John Cena's six-year relationship.

If you've watched Amy Schumer's 2015 comedy Trainwreck then you might remember a certain sex scene with the main character's sensitive hulk boyfriend, played by John Cena.
It was – as intended – uncomfortable viewing. But for one woman, the actor's partner of several years Nikki Bella, it was so disturbing that it permanently changed her relationship. In fact, it may have been the beginning of the end of their partnership, which ended in April this year.
Nikki, a wrestler and reality star, said in the most recent episode of her show, Total Bellas, that she was scarred by the scene.
"Imagine watching your man do a sex scene and have the whole world see his big butt," she said.
"You know you get visuals. I swear, I couldn't masturbate forever because I just think of the sex scene."
That's not good.
A 2015 interview John gave to Conan O'Brien confirmed his girlfriend at the time was not happy about him appearing nude.
"I didn't think I'd get the part, and I kept putting it off and not telling Nicole and not having the discussion of, 'Hey, there may be some graphic scenes,'" he said. "So I got it [the role] and I couldn't say no. So I kinda walked in one day and just said, 'Hey, I'm doing this!'"
As the former wrestler learned, this was not the best approach.
"She has such beautiful brown eyes and they glowed with red hellfire and she has such a great smile but she turned into the Alien and Predator all at once."
That less-than-flattering description of his partner on late night TV may not have helped things.
2. The Bachelor's Michael Turnbull has been linked to Teen Mom's Farrah Abraham and we have a headache.
In reality tv romance news that we're more interested in than we should be, The Bachelor's Michael Turnbull is rumoured to be dating former 16 And Pregnant star Farrah Abraham.
Abraham, 27, who's also appeared on US reality shows and Celebrity Big Brother, posted a photo of her and 37-year-old Turnbull to her Instagram story over the weekend.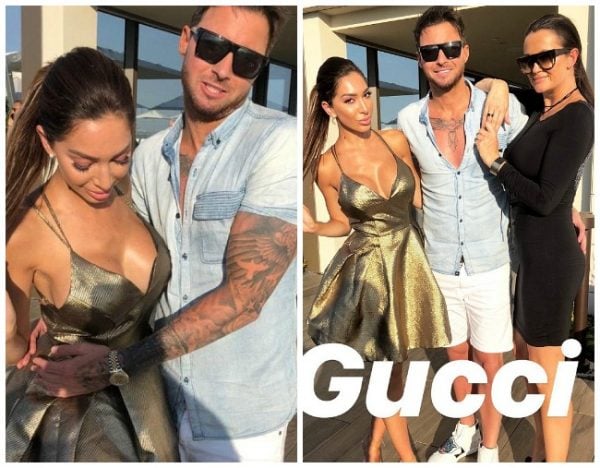 The pair were at a private party in Los Angeles, where Turnbull is said to be filming ANOTHER dating series, Game Of Love.
The series is currently being kept on the down-low, but Woman's Day and The Daily Mail previously reported that the show will be filmed in the United States and involve Turnbull dating some lucky American ladies.
It will mark Turnbull's third crack at falling in love on the television. Good luck, sir.
3. All of the teeny, tiny signs that Taylor Swift and Joe Alwyn's relationship is over.
Okay. So this may be reading too much into things. But if we've learned anything about subtle breakup hints lately (hello, Sam and Tara's unfollowing of each other on Instagram pre-split announcement) it's that sometimes, where there's smoke there's fire.
With that in mind, we present to you, courtesy of Lainey Gossip, three possible signs that Taylor Swift and Joe Alwyn, possibly, maybe, have broken up.
1. Taylor was hanging out with her "squad" this past weekend, not her beau. Gals-only holidays have become something of a ritual for Taylor when a romance goes awry.
2. Joe, meanwhile was at Wimbledon. Solo.
(Okay, so they spend time apart, what healthy couple doesn't? Bear with us...)
3. Taylor has been papped twice now, most recently on Sunday, not wearing her necklace with Joe's initials on it - you know, the one she's seemingly been living and sleeping in since their love first blossomed.
This may not be the most concrete of evidence of a split we've read or repeated - and we're happy to be proven wrong. But we will not be blindsided by another celebrity breakup a la Channing and Jenna. We won't!
4. Constance Hall's ripping response to the man who told her to put her "tits" away.

Constance Hall has been sharing photos of herself breastfeeding her son Raja from the moment he was born.
And she had strong words for a man who suggested she not.
The author and blogger said the "bloke's" message to her on Instagram read: "Constance why do you have to get your tits out on camera to feed your baby... have some respect for your kids and your husband..."
Her response was simply brilliant.
"I have to have my tits out to feed my baby because he does this thing called breast feeding- so f**king weird, the baby literally feeds off my breast!! It's so hard to do through clothes..."
Constance said she hoped society would one day soon desexualise breasts "so that mums and babies are free to feed in public with out the scrutiny of someone like yourself feeling awkward because its giving him a stiffy".
"You know, free to do it anywhere we want, like ya know... every other mammal on Earth.... Which is why in fact I have a lot of respect for my children.
"And as for my husband.. What the f**k has any of this got to do with him?"
No word yet on his response to that epic answer.
5. Why we were never meant to see the fifth photo from Prince Louis' christening.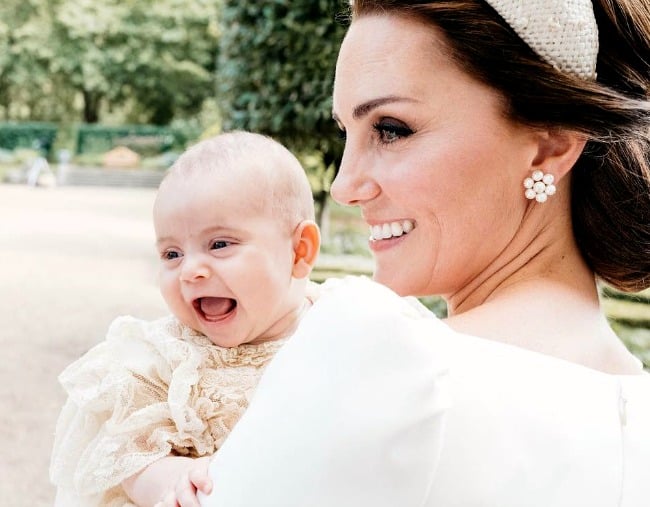 Kensington Palace released five photos from Prince Louis' christening yesterday - but there was one photo we weren't meant to see.
Four photos were taken by the official photographer, Matt Holyoak, but there was one extra snap by Matt Porteous the royal family shared hours after the first ones.
This stunning fifth photo shows a tender, candid moment between the Duchess of Cambridge and her two-month-old son that we don't normally see from the royals. But it isn't part of the 'official' christening set.
According to The Mirror, Porteous was hired as the couple's private photographer, meaning his photos would be for the family's private album and therefore off limits to the public. However, it seems this photo was too good to not share – and we're so glad they decided to do so.
Read the full story here.