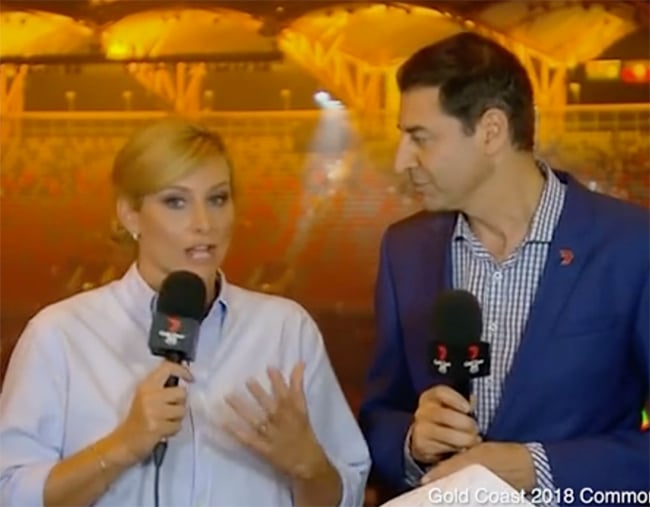 She captured the mood of the nation after Sunday night's Commonwealth Games closing ceremony on the Gold Coast, but now Channel Seven host Johanna Griggs has been forced to defend her anger at Games' organisers.
On Sunday night, after footage from Games organisers provided to Channel Seven did not show athletes entering the stadium, nor inspirational paralympian Kurt Fearnley carrying the Australian flag, Griggs told viewers she was "furious" that the "tradition was wrecked".
Now, however, Griggs has been forced to defend her anger after former Channel Seven sports presenter, now ABC journalist, Tracey Holmes, wrote a piece claiming Seven was given a "minute-by-minute briefing detailing how the closing ceremony would unfold".
I reckon if I'd paid $40mil to be rights holder for Commonwealth Games and organisers told me I couldn't broadcast the athletes & @kurtfearnley entering the stadium I'd be telling them, 'watch this space'. #ClosingCeremony

— Tracey Holmes (@TraceyLeeHolmes) April 15, 2018
"Prior to the Gold Coast closing ceremony all rights holders, including Channel Seven, were given a minute-by-minute briefing on Saturday morning detailing how the closing ceremony would unfold — complete with a 34-page media guide," Holmes wrote for the ABC.
"The guide makes no mention of athletes marching in as part of the ceremony. Organisers confirmed Channel Seven had a number of representatives at that briefing."
Griggs said Holmes was "having a crack at my integrity".
About to send out a statement to absolutely clarify some vey dubious & incorrect accusations made by someone with a very old axe to grind!

— Johanna Griggs (@JohGriggs7) April 16, 2018
"I was one of the three people representing Seven in that briefing," Griggs said in a statement.
"The briefings are to give you an overview of the creative vision of the producers, and find out where they think things need to be explained in commentary.
"At no point in the guide does it mention that there wouldn't be one single shot shown of athletes watching the performances. We assumed, like every other closing ceremony ever shown, that the host's vision would feature athletes non-stop.
"If we'd left that briefing room with any indication given to us that no athletes would feature, then of course we would have made other arrangements to capture those moments. But instead we thought we were going to broadcast an innovative and exciting show."
Firstly, thank u to everyone for your overwhelming support around this issue. I'm still sad that a wonderful Commonwealth Games has been tarnished with such a sad ending. But when someone has a crack at your integrity, u have to respond. I hope this answers some of your questions pic.twitter.com/BHY1mTvsSO

— Johanna Griggs (@JohGriggs7) April 16, 2018
She's also defended her Sunday night live-on-air takedown of event organisers. During her piece to camera, Griggs said Channel Seven was not allowed to show vision of Kurt Fearnley because it was under embargo.
"We have vision that we took of Kurt because we were at the bus before they came in, we weren't allowed to put it in the ceremony," she said, Nine News reports.
And, after games organisers told Nine News "there were no embargoes in place post 5.30pm on Sunday", Griggs has again fired back over Twitter.
She shared a photo of the Games Media Handbook that says "the information contained in this media guide" is under embargo until 8:30pm, though there's no clarification on what that "information" covers.
LISTEN: Jessie Stephens recognised the look on Cate Campbell's face when her sister won gold at the Commonwealth Games.