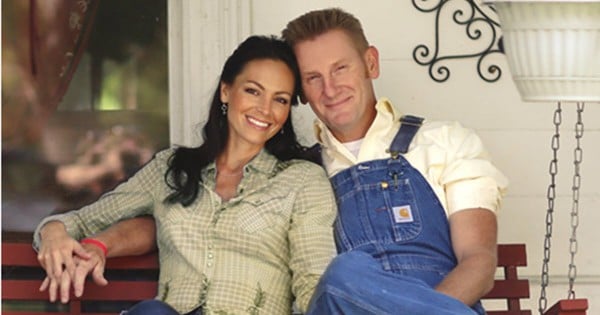 "Feeling broken-hearted and blessed all at the same time this morning… watching my beautiful bride pour a lifetime of love into a few minutes a day," country music star Rory Feek, 50, wrote in the caption of a photo he posted yesterday to Instagram.
His wife Joey Feek is an American country singer. She's a 40-year-old mother of a baby girl, who has Down syndrome. She's married to her musical collaborator Rory.
And she's fighting a very public battle with terminal cancer.
Joey Feek has been cared for in her hometown of Alexandria, Indiana since stopping treatment for stage four cervical cancer, and her family and friends fear their time with her is coming to an end.
Her husband has been chronicling his wife's illness in a blog called This Life I Live, and country music fans in the US have been faithfully following their story.
They know Joey might not live to find out whether she and Rory will win the Grammy and ACM awards they were recently nominated for, but they take comfort in the time they are able to spend together.
"Without realizing I was doing it, God has allowed me to capture hours and hours of Joey and her life at home on the farm, raising Indiana and playing music," Rory Feek told People. "I can't help but believe that those clips will be an important part of keeping Joey's memory alive in Indy's heart."