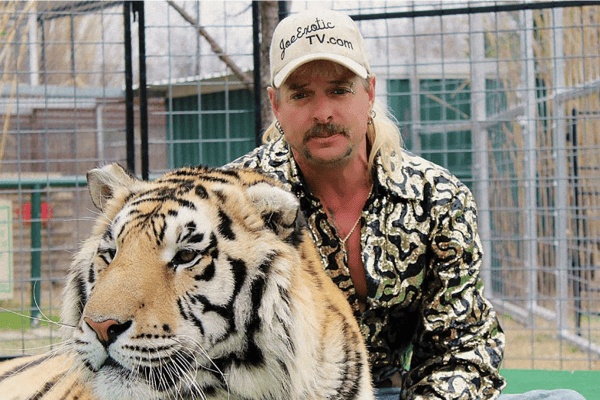 This post contains mentions of animal abuse, and may be triggering to some readers.
Since dropping on Netflix three weeks ago, Tiger King: Murder, Mayhem, and Madness has quickly become the most talked about show in the world right now.
The seven-part series, which dives into the strange world of big cat ownership in the United States, follows the story of Joseph Maldonado-Passage a.k.a Joe Exotic – a self-described "gay, gun-toting cowboy with a mullet".
Along the way, the often unbelievable docuseries is jam-packed with murder-for-hire, polygamy, countless big cats, heavy drug use and the exploitation of both animals and humans.
Watch the trailer for Netflix's Tiger King: Murder, Mayhem, and Madness below. Post continues after video.
Although the series is based entirely on a true story, Joe Exotic's niece has come out of the woodwork to claim that her uncle is "100 times worse" than how he was portrayed in the Netflix documentary.
In an interview with DailyMailTV, Chealsi Putman, who appeared in the documentary and worked with Exotic on-and-off for 18 years, made a number of damning claims about her uncle and his Oklahoma zoo.
"In the Tiger King Netflix series, you can see glimpses of his evil persona but in real-life Joe is 100 times worse," Putman claimed.
"I want people to know who the real Joe Exotic is, not the one you've seen on TV."
Putman, whose mother is Exotic's youngest sister, claimed that Exotic was initially a "good guy and genuinely cared for the animals".
But over time, the 31-year-old, who did odd jobs for Exotic at his zoo from 1999 until 2017, witnessed a number of instances of alleged animal abuse.