It was December 2010 and the holiday season was in full swing.
There was snow on the ground in Bristol in the UK and with Christmas approaching, 25-year-old Jo Yeates was excited about spending time with her boyfriend, Greg Reardon, and her parents, David and Theresa.
Jo and Greg had met at the landscape architecture firm where they both worked and had recently moved in together.
On December 17, Jo and her colleagues finished work for the day and piled into a nearby pub for festive drinks. Greg had gone away for the weekend to visit his brother and Jo told her friends she planned to spend her time baking cakes for a party they were throwing the following Tuesday.
At around 8pm, Jo left the pub and went to a nearby supermarket where she purchased a pizza and two bottles of cider. Then she set off on the 20 minute walk back to her flat.
On 19 December, Greg returned from his trip. Upon entering the house, he found a half drunk bottle of cider on the table beside Jo's handbag, glasses and keys. His girlfriend was nowhere to be found.
LISTEN: Holly Wainwright and The Stephens Twins explore our fascination with crime. Post continues after audio…

When he called her mobile, and heard it ringing in the pocket of her jacket, he knew instinctively something was very wrong.
He called the police and reported Jo missing. Then he phoned her parents.
The disappearance was completely out of character.
"She's a vivacious, sensible, professional lady, and there seems to be no obvious reason at all as to why she's gone missing," a detective said in a press conference.
They began to retrace Jo's last known movements. After she bought her pizza, Jo called her best friend Rebecca Scott, arranging to meet her on Christmas Eve. The police knew Jo had made it home because her belongings – and the receipt for the pizza were found inside the flat.
The pizza – and its packaging, however, were missing.
If she'd eaten it, the box would be in the flat. But if she hadn't eaten it, then where was it? It didn't make any sense and detectives were flummoxed.
On December 22, Greg Reardon made an emotional plea for Jo to come home. "I desperately want her back," he said, according to the Evening Standard.
"She was my future. This Christmas was going to be our first together. I was going to spend it with her family, which is always a big deal for a boyfriend. We were both really happy in our jobs – we worked together and that's how we met."
But Jo did not come home. On Christmas morning, her frozen body was discovered 5km away from her home by a family out walking. Her pink top and bra had been hiked up, exposing her breasts. An autopsy later showed she had been bashed and strangled; the 43 separate injuries on her body were evidence of a very violent struggle.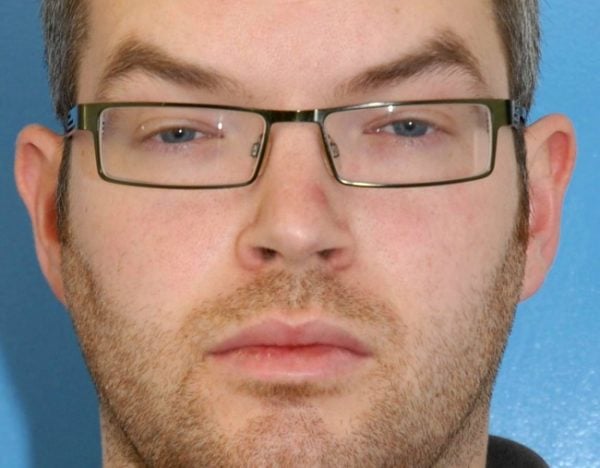 Vincent Tabak. Image: Getty 
Police offered a $100,000 reward for information leading to the arrest of her killer.
Quickly a suspect emerged: Jo's landlord, Chris Jeffries. The 65-year-old was arrested and questioned, his face splashed across newspapers. The former school teacher had wild white hair and and was described as "eccentric" and "a loner". Tabloids nicknamed him "The Nutty Professor" and it seemed many people believed the police had their man.
But while Jeffries was being questioned, police received a call. It was Jo's neighbour, Vincent Tabak, who lived next door with his girlfriend, Tanja Morson.
He told cops that on the night of Jo's disappearance he'd seen Jeffries moving his car. He said he did not wish to incriminate Jeffries, but that the landlord did have a habit of letting himself into their properties when they weren't there.
Could he have let himself into Jo's flat and laid in wait for her to come home?
At first it seemed like useful information. But over the next few days, police heard from Tabak numerous other times. He seemed to be overly interested in the details of the investigation - and changed his story twice about what he'd been doing on the night of the murder.
Police flew to the Netherlands - where Tabak was spending Christmas with family - and interviewed him. He was cooperative and provided a DNA sample.
Meanwhile, Jeffries was released on bail.
While the media and many members of the public were still convinced Jeffries was the killer, forensics had proved otherwise.
Tabak's DNA was a match to DNA discovered on Jo's chest and police also found traces of Jo's DNA in Tabak's silver Renault Megane.
He was charged with her murder. It wasn't until March 4 that Jeffries was officially cleared of any involvement in the crime and he went on to sue eight different newspapers for libel. He was awarded an undisclosed six-figure sum in damages for the way he was vilified.
At first, Tabak protested his innocence. He accused the police of being corrupt and said his DNA must've been planted. But as the net closed in, he changed his story yet again. He pleaded guilty to manslaughter, claiming he had killed Jo by accident.
His account was as follows, as reported by The Guardian. He said on the night of 17th, he was home alone. His girlfriend, Tanja, was at an office Christmas party and he was due to pick her up later in the evening. On his way out to a supermarket to buy "treats" he spotted Jo through her kitchen window and waved to her.
According to Tabak, she waved back then came to the front door and invited him in. Tabak said Jo flirted with him and within 10 minutes, had given him the impression she wanted to kiss him. He leaned in but she rebuffed his advances and began to scream.
In a panic, he said, he put his hands around her throat to silence her.
He said that after strangling her for less than a minute "she went limp, she fell to the floor."
"I still can't understand what happened," he told the jury.
He carried her outside and put her in the boot of his car. He drove to the supermarket where he bought chips, rock salt and beer. As he made his way up and down the aisles, Jo's lifeless body was languishing in the back of his car.
Knowing he'd murdered Jo, Tabak then sent a text to his girlfriend, saying: "Miss you loads. It's boring here without you. Vxx"
He then returned to his flat for around 20 minutes before driving to Longwood Lane, where he dumped the body.
When asked if he took and ate the pizza that was in Jo's flat, he said he had removed it and thrown it away. But sickeningly, the prosecution believed that after the murder, he stopped to eat it.
The jury didn't believe Tabak had killed Jo by accident after he made a pass at her. He was convicted of murder and sentenced to life in prison.
What the jury didn't hear during the trial was that when police looked into Tabak's computer after his arrest they found he had a strong interest in hardcore porn featuring scenes of strangulation.
They found he had watched one of these videos of the day he had killed Jo - and that he had searched porn in between searches about Jo's disappearance.
Of particular interest to police was an image he had saved. It showed a slight, blonde woman resembling Jo, with a pink top pulled up to expose her breasts - exactly the way she was found.
After the verdict, Jo's parents, David and Theresa, said in a statement: "We are not elated. We always knew that he was guilty, whatever the jury decided. We are, however, relieved with the murder verdict because we do not know how we would have reacted if they had come back with manslaughter.
"We are feeling mixed emotions, but we don't really have any anger. Tabak has shown no remorse – in court he made noises, but there was nothing there.
"After Jo died we tried to put our lives back together. The trial was something we had to go through and now we've got to try and get back to life before that.
"It hasn't changed anything. Jo is still dead."