If there's one person who can really tell us what went on behind-the-scenes of THAT Oscars mishap, it's the show's host, Jimmy Kimmel.
During his late night talk show last night, the comedian told the real story behind the Best Picture blunder at the 2017 awards.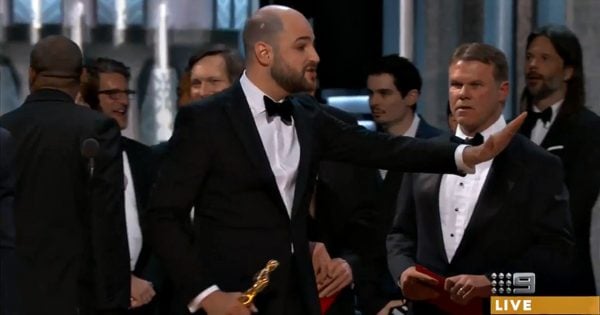 "Except for the end...it was a lot of fun," he told his audience of his time hosting the biggest awards show of the year.
"It went very well, we were chugging along...and then all of a sudden, out of nowhere, it turned into one of those Maury Povich paternity test shows.
"It was the weirdest TV finale since Lost."
And Kimmel said it was Denzel Washington who was able to make sense through all the chaos.
"I'm standing there like an idiot feeling bad for these guys but also trying really hard not to laugh, to be honest, and I see Denzel Washington in the front row trying to get my attention," he said.
Listen: The Recap team debriefs on the drama of the 2017 Oscars. (Post continues after audio.)
"He's gesturing and he's pointing, I don't know what he's pointing at but he yells 'Barry'.
"Eventually I figure out that Barry Jenkins, the director of Moonlight, is standing behind me and Denzel wants me to get him to the microphone to make a speech, which makes sense.