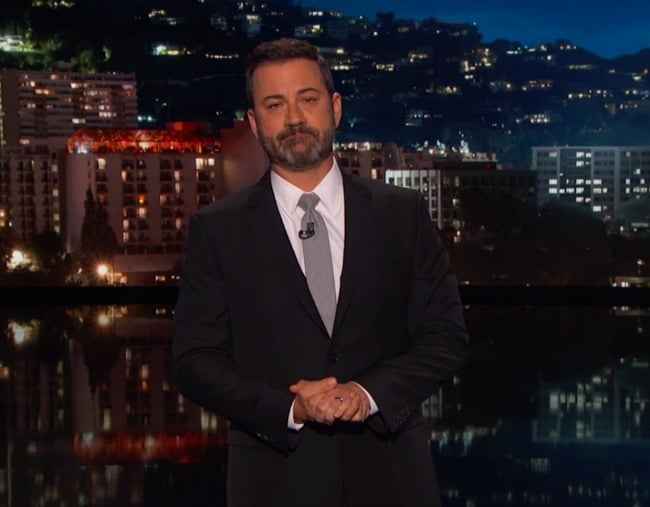 Jimmy Kimmel doesn't want to be serious. By his own admission, his job is to tell the jokes. To be funny and to find the lighter side of the serious.
But last night, as he took the stage for his well-loved, self-titled late night show, he couldn't be funny. Last night, the jokes didn't roll off the tongue and into the eyes and ears of an eager audience ready to giggle.
Instead, Jimmy Kimmel walked onto the set of his show, eyes cupped with tears and a searing, impassioned monologue ready for the world.
Because the events of the day before had felt like "someone [had] opened a window into hell".
The Las Vegas shooting, one that has so far claimed the lives of 59 people and left 500 more injured, was on Kimmel's mind. He grew up in the state, and told his audience he felt, so deeply, for the families affected by senseless acts of evil.
"This morning, we have children without parents and fathers without sons, mothers without daughters. We lost two police officers. We lost a nurse from Tennessee. A special-ed teacher from a local school here in Manhattan Beach. It's the kind of thing that makes you want to throw up or give up. It's too much to even process — all these devastated families who now have to live with this pain forever because one person with a violent and insane voice in his head managed to stockpile a collection of high-powered rifles and use them to shoot people."
He took it as his invitation to talk, with both reason and remnants of rage, about why America won't legislate against guns.
"It's not about gun control," he said. "It's about common sense."
"There are a lot of things we can do about it. But we don't, which is interesting. Because when someone with a beard attacks us, we tap phones, we invoke travel bans, we build walls, we take every possible precaution to make sure it doesn't happen again. But when an American buys a gun and kills other Americans, then there's nothing we can do about that. And the Second Amendment, I guess, our forefathers wanted us to have AK-47s is the argument, I assume."
Kimmel went on to ensure the public knew that although President Trump has publicly sent thoughts and prayers, he is, by definition, an enabler.
Mia Freedman and Amelia Lester discuss the shooting at Las Vegas' Mandalay Bay Hotel that left 59 people dead.

"President Trump is visiting Las Vegas on Wednesday. He spoke this morning, he said he was praying for those who lost their lives. You know, in February, he also signed a bill that made it easier for people with severe mental illness to buy guns legally.
"The Senate majority leader, Mitch McConnell, the speaker of the House, Paul Ryan, a number of other lawmakers who won't do anything about this because the N.R.A. has their balls in a money clip, also sent their thoughts and their prayers today — which is good. They should be praying. They should be praying for God to forgive them for letting the gun lobby run this country. Because it is, it is so crazy."
He also refuted White House press secretary Sarah Huckabee Sanders' claims that now is not the time "for a political debate" but instead a time to "unite as a country".
"I don't know, we have 59 innocent people dead, it wasn't their time either," Kimmel said.
"So I think now is the time for political debate."