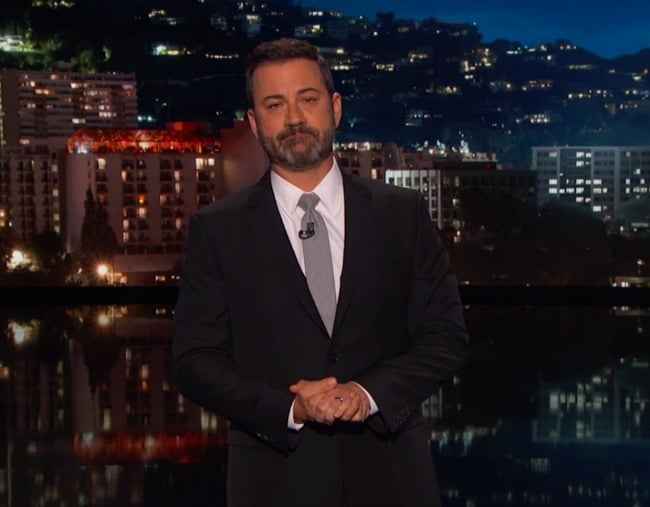 Jimmy Kimmel doesn't want to be serious. By his own admission, his job is to tell the jokes. To be funny and to find the lighter side of the serious.
But last night, as he took the stage for his well-loved, self-titled late night show, he couldn't be funny. Last night, the jokes didn't roll off the tongue and into the eyes and ears of an eager audience ready to giggle.
Instead, Jimmy Kimmel walked onto the set of his show, eyes cupped with tears and a searing, impassioned monologue ready for the world.
Because the events of the day before had felt like "someone [had] opened a window into hell".
The Las Vegas shooting, one that has so far claimed the lives of 59 people and left 500 more injured, was on Kimmel's mind. He grew up in the state, and told his audience he felt, so deeply, for the families affected by senseless acts of evil.
"This morning, we have children without parents and fathers without sons, mothers without daughters. We lost two police officers. We lost a nurse from Tennessee. A special-ed teacher from a local school here in Manhattan Beach. It's the kind of thing that makes you want to throw up or give up. It's too much to even process — all these devastated families who now have to live with this pain forever because one person with a violent and insane voice in his head managed to stockpile a collection of high-powered rifles and use them to shoot people."