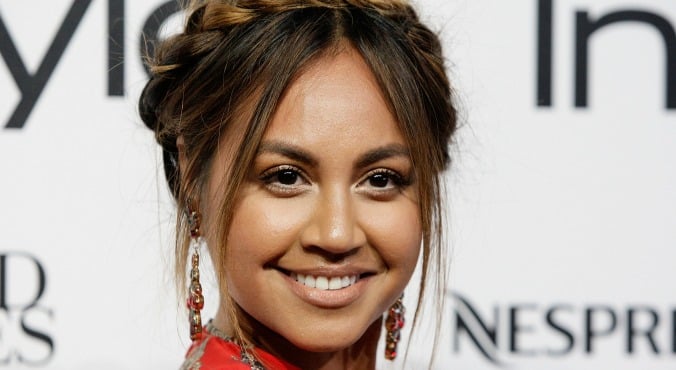 Image: Getty.
Since coming runner-up on Idol back in 2006, Jessica Mauboy has gone on to become the golden girl of the Aussie pop music industry.
As if her many awards and chart-topping songs weren't proof enough, last year the 25-year-old was the first Australian singer to perform at Eurovision — and she smashed it out of the park.
RELATED: Jessica Mauboy has chopped off her hair.
Despite her obvious achievements, there's one aspect of Mauboy's Australian Idol experience that many of us remember for less positive reasons: the moment when judge Kyle Sandilands told her she needed to "lose the jelly belly" if she wanted to succeed in the music industry. Charming man, that Kyle.
Did we mention she was only 16 at the time? (Post continues after gallery.)
Jessica Mauboy's best beauty looks
In an interview with Who two years after Idol, Mauboy reflected on her initial reaction to Sandilands' comment. "I kind of took it as a joke… I look back on it as a positive thing – it made me a stronger person," she told the magazine.
Now, the ARIA winner — and new face of Target womenswear — has spoken about how feeling uncomfortable with her weight at the time spurred her to embark on a healthier lifestyle.
RELATED: Lauren Conrad bans body shaming words from her site – but is that really helpful?
"I look back to when I was 16 and I remember feeling very heavy on Idol," she says in the latest issue of OK! Australia. "I think my music really boosted me. I just want to be healthy and I want to love myself."
Mauboy has dropped two dress sizes over the past nine years, through a combination of a "clean diet of protein and vegetables" and exercise. She shared a rundown of her average day on a plate with OK!, and it seems pretty damn achievable.
Breakfast is "a nice fresh smoothie and some eggs and avocado"; lunch is a chicken salad, and dinner grilled chicken or fish with salad. The singer snacks on unsalted nuts and protein bars between meals, and enjoys a cheese platter with fruit for dessert.
Clearly Mauboy is loving life right now, and we reckon she looks great — although she always has — and we can't wait to see where her career goes next.
RELATED: This is Bindi Irwin all grown up, and now she's dishing out life advice.
As for that awful 'jelly belly' situation, it's hard to fathom just how much a weight jibe like that could affect any women, let alone a teenager. Body shaming, even when it's positioned as 'constructive career advice' as Sandilands' comment presumably was, can be hugely detrimental.
"It impacts on the confidence and self-esteem of young women. It can also redirect attention away from their talents, development, skills and other creative areas of a woman's life," says psychologist and director of Blue Horizon Counselling Yuliya Richard.