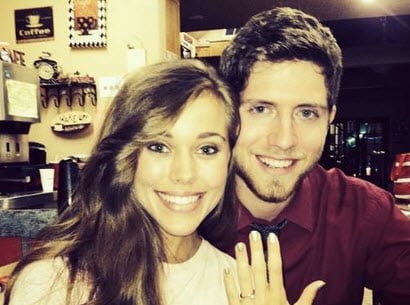 We did not see THIS coming…
We reported earlier in the week that Jessa Duggar, 22, and Ben Seewald, 21, stars of the hit reality TV show, 19 Kids and Counting, had tied the knot in their hometown of Arkansas.
Which meant that as Fundamentalist Christian's they were finally allowed to kiss. Bless.
However, according to one of the couples 2,000 guests, Jessa and Ben did more than just kiss after they were married.
One "Mary B." alleges on the blog "My Life As a Stay at Home Wife and Mother" that Jessa's sister Jinger accidentally walked in on Jessa and Ben engaged in sexual intercourse in the wedding church.
The pair of them HAD SEX in the CHURCH.
Mary explains, "Multiple people were discussing that when Jinger opened the door to get Jessa for the reception, she immediately closed the door with a look of shock on her face. A big group of the girls were waiting outside the room to walk with her out…and my own daughters saw as well."