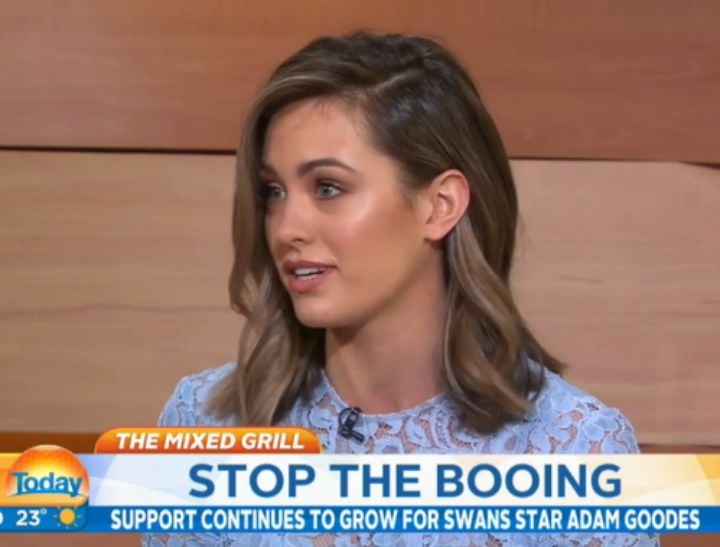 "Is it racist? Yes, I think it is."
Model and TV presenter Jesinta Campbell has powerfully spoken out in support of AFL star Adam Goodes following claims he was racially abused on the field.
Brownlow medalist Goodes, 35, was booed by West Coast fans at a game on Sunday. He has taken indefinite leave from the game amid ongoing controversy about whether the booing was racist.
During a segment on Today this morning Campbell, who is engaged to indigenous football star Buddy Franklin, praised Sydney Swans player Goodes for creating "a better future" for her own "future children."
Watch the segment here (post continues after video):
"Is it racist? Yes, I think it is," Campbell said of the booing on Channel Nine's Today show this morning.
Related: Adam Goodes isn't "playing the race card". He's being silenced by thugs.
"Now I have to personally thank Adam Goodes because my future children are going to be indigenous, and because of his courage and his passion, he is creating a better future for not only my children, but all indigenous children," she said.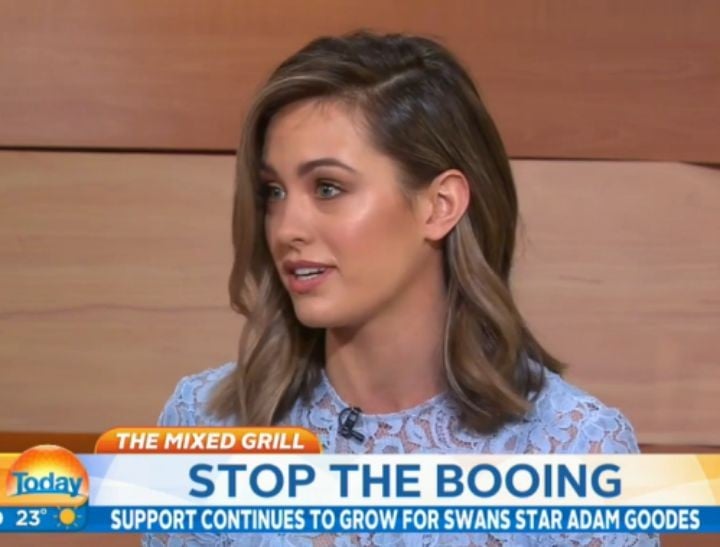 "And so for that I have to say, Adam, you are a champion on the field and off the field and I will stand by you."
The 23-year-old former Miss Universe Australia also described persistent booing as "bullying," calling on fans to stop the hostile behaviour.
"Booing is a public form of bullying," Campbell said.
"Adam has come out and said it is affecting him, so everyone needs to stop."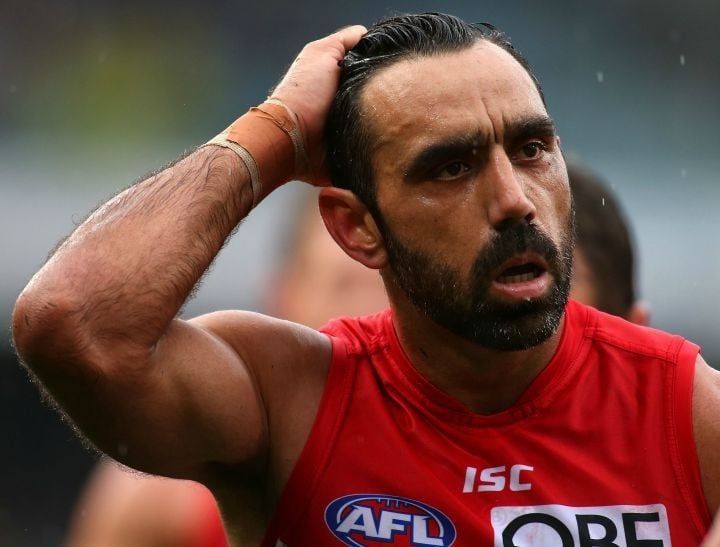 She continued: "If you continue to boo him, you are bullying him… It's affecting his welfare, it's affecting his family and friends, and it needs to stop."
Campbell, who became engaged to Sydney Swans player Franklin in December, was praised by other panelists for her strong statements of support.
Some praised her online for her "powerful," "beautiful" words, with some viewers saying they had teared up at her words of support.
Click through to see some of the social media reactions to her comments:
Twitter reactions to Jesinta Campbell's TODAY speech.
Related:
Charlie Pickering perfectly explains why booing Adam Goodes IS racist.
'We shouldn't be booing Adam Goodes. We should be congratulating him.'